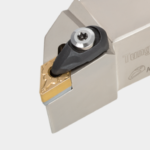 Cost effective: Identical cutting performance, only smaller
ISO-EcoTurn Small size inserts, for an economical advantage
Applications & Features
1. Over 75%* of the turning market only uses a depth of cut at or less than 3 mm
* Based on Tungaloy market research.

2. Chip control
ISO-EcoTurn inserts incorporate an identical chipbreaker geometry as regular size inserts providing the same chip removal at a depth of cut up to 3 mm.
Workpiece: S45C / C45
Cutting speed: Vc = 200 m/min
Coolant: Wet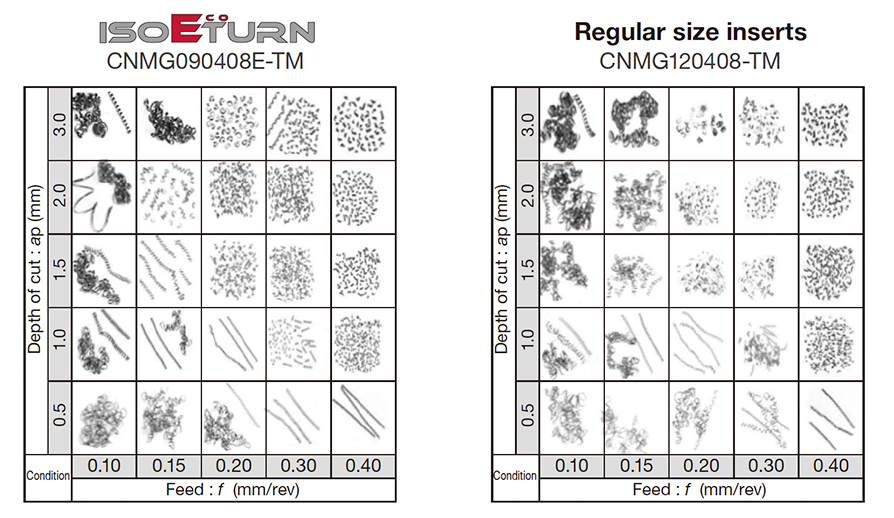 3. Uncompromising insert performance
Comparison of ISO-EcoTurn and regular size inserts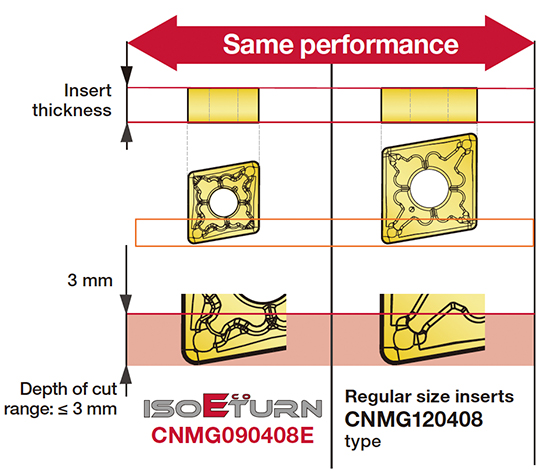 ISO-EcoTurn inserts feature the identical thickness and chipbreaker geometry as Tungaloy's regular size inserts.
These properties provide cutting performance equal to that of the regular size inserts, including chip control at a depth of cut up to 3 mm.
Inserts & Grades
Toolholders
Practical examples
Part:
Machine part
Material:
SCM415
Toolholder:
AWLNR2525M0604-A
Insert:
WNMG060408E-TM
Grade:
T9215
Cutting conditions:
Vc = 240 (m/min)
f = 0.1 – 0.25 (mm/rev)
ap = 1 (mm)
Application: External face turning
Coolant: Wet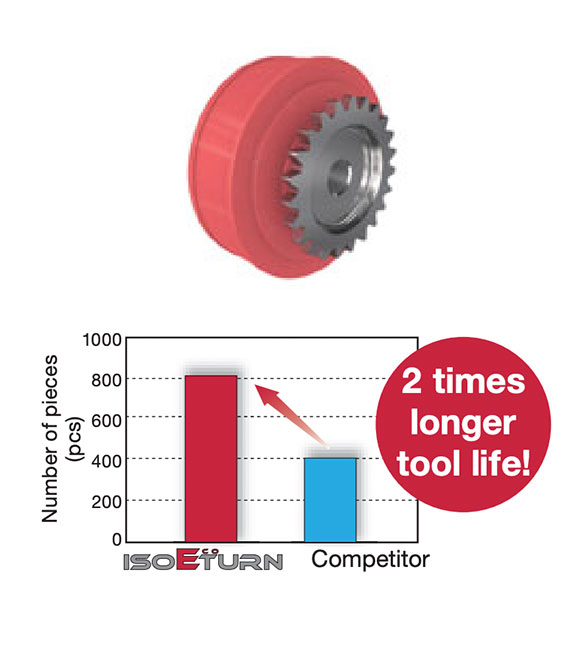 Part:
Shaft
Material:
S45C / C45
Toolholder:
ADJNR2525M1104-A
Insert:
DNMG110408E-TSF
Grade:
T9215
Cutting conditions:
Vc = 260 (m/min)
f = 0.2 (mm/rev)
ap = 1 (mm)
Application: External turning
Coolant: Wet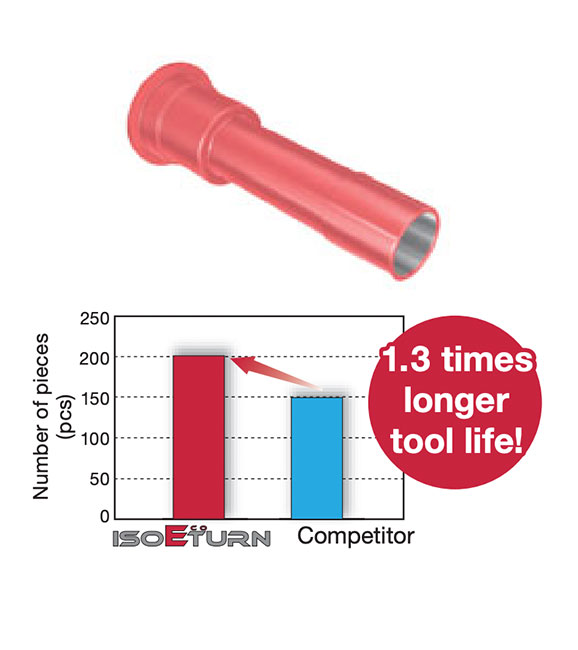 Standard cutting conditions
CN/DN/TN/VN/WN
ISO
Application
Chipbreaker
Grades
Depth of cut
ap (mm)
Feed
f (mm/rev)
Cutting speed: Vc (m/min)
Low carbon steels
Alloy steels
Medium carbon steelsAlloy steels
High carbon steels
Alloy steels
Precision finishing
TF
T9215
0.1 – 0.5
0.03 – 0.15
150 – 400
150 – 400
120 – 300
T9225
0.1 – 0.5
0.03 – 0.15
120 – 300
120 – 300
100 – 250
Finishing
TSF
NS9530
0.2 – 1.5
0.08 – 0.4
150 – 250
80 – 220
80 – 180
GT9530
0.2 – 1.5
0.08 – 0.4
150 – 300
80 – 250
80 – 200
AT9530
0.2 – 1.5
0.08 – 0.4
150 – 300
80 – 250
80 – 200
T9215
0.2 – 1.5
0.08 – 0.4
150 – 400
150 – 400
120 – 300
T9225
0.2 – 1.5
0.08 – 0.4
120 – 300
120 – 300
100 – 250
ZF
T9215
0.2 – 1.5
0.07 – 0.2
150 – 400
150 – 400
120 – 300
T9225
0.2 – 1.5
0.07 – 0.2
120 – 300
120 – 300
100 – 250
Finishing (Wiper)
FW
T9205
0.2 – 1.5
0.08 – 0.4
180 – 400
180 – 400
150 – 350
T9215
0.2 – 1.5
0.08 – 0.4
150 – 400
150 – 400
120 – 300
T9225
0.2 – 1.5
0.08 – 0.4
120 – 300
120 – 300
100 – 250
NS9530
0.5 – 1.5
0.2 – 0.4
150 – 250
80 – 220
80 – 180
GT9530
0.5 – 1.5
0.2 – 0.4
150 – 300
80 – 250
80 – 200
Finishing to medium cutting
ZM
T9215
0.7 – 2
0.15 – 0.4
150 – 400
150 – 400
120 – 300
T9225
0.7 – 2
0.15 – 0.4
120 – 300
120 – 300
100 – 250
Finishing to medium cutting (Wiper)
SW
T9205
0.5 – 2
0.3 – 0.6
180 – 400
180 – 400
150 – 350
T9215
0.5 – 2
0.3 – 0.6
150 – 400
150 – 400
120 – 300
T9225
0.5 – 2
0.3 – 0.6
120 – 300
120 – 300
100 – 250
Finishing to medium cutting
NM
T9225
0.5 – 2
0.15 – 0.4
120 – 300
120 – 300
100 – 250
Medium cutting
TM
T9215
1 – 3
0.2 – 0.5
150 – 400
150 – 400
120 – 300
T9225
1 – 3
0.2 – 0.5
120 – 300
120 – 300
100 – 250
Austenitic stainless steel
Ferritic / martensite stainless steel
Precipitation hardened stainless steel
Finishing
SS
AH630
0.5 – 3
0.08 – 0.2
90 – 190
110 – 210
60 – 90
AH645
0.5 – 3
0.08 – 0.2
70 – 150
90 – 170
–
Medium cutting
SM
T6120
1 – 3
0.2 – 0.5
140 – 240
160 – 280
80 – 150
T6130
1 – 3
0.2 – 0.5
100 – 200
120 – 240
70 – 110
AH630
1 – 3
0.2 – 0.5
90 – 190
110 – 210
60 – 90
Grey cast irons
Ductile cast irons
Finishing to medium cutting (Wiper)
SW
T5115
0.5 – 2
0.3 – 0.6
140 – 400
140 – 370
Medium cutting
TM
T515
1 – 3
0.2 – 0.5
150 – 700
140 – 370
Titanium alloys
Ni-base alloys
Medium cutting
TM
AH8015
1 – 3
0.2 – 0.5
20 – 150
20 – 100
GN/FN
ISO
Operation
Chipbreaker
Grade
Depth of cut
ap (mm)
Feed
f (mm/rev)
Cutting speed: Vc (m/min)
Low carbon steel, alloy steel
Medium carbon steel, alloy steel
High carbon steel, alloy steel
Finishing
TSF
T9215
0.2 – 1.5
0.08 – 0.4
150 – 400
150 – 400
120 – 300
T9225
0.2 – 1.5
0.08 – 0.4
120 – 300
120 – 300
100 – 250
Medium cutting
TM
T9215
1 – 3
0.2 – 0.5
150 – 400
150 – 400
120 – 300
T9225
1 – 3
0.2 – 0.5
120 – 300
120 – 300
100 – 250
ISO
Operation
Chipbreaker
Grade
Depth of cut
ap (mm)
Feed
f (mm/rev)
Stainless steel
Finishing
TSF
T9215
0.2 – 1.5
0.08 – 0.4
100 – 250
T9225
0.2 – 1.5
0.08 – 0.4
100 – 250
AH8015
0.2 – 1.5
0.08 – 0.4
90 – 190
Medium cutting
TM
T9215
1 – 3
0.2 – 0.5
100 – 250
T9225
1 – 3
0.2 – 0.5
100 – 250
AH8015
1 – 3
0.2 – 0.5
90 – 190
ISO
Operation
Chipbreaker
Grade
Depth of cut
ap (mm)
Feed
f (mm/rev)
Cast iron
Finishing
TSF
T9215
0.2 – 1.5
0.08 – 0.4
140 – 500
T9225
0.2 – 1.5
0.08 – 0.4
140 – 500
Medium cutting
TM
T9215
1 – 3
0.2 – 0.5
140 – 500
T9225
1 – 3
0.2 – 0.5
140 – 500
ISO
Operation
Chipbreaker
Grade
Depth of cut
ap (mm)
Feed
f (mm/rev)
Heat-resistant alloys
Finishing
TSF
AH8015
0.2 – 1.5
0.08 – 0.4
20 – 80
Medium cutting
TM
AH8015
1 – 3
0.2 – 0.5
20 – 80
For more information about this product, visit our online e-catalog or download the product report:
BACK