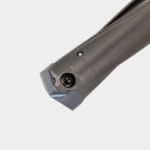 Head-changeable drill for drilling large holes
Unique clamping concept and two effective cutting edges on the drill head provide excellent hole quality and high productivity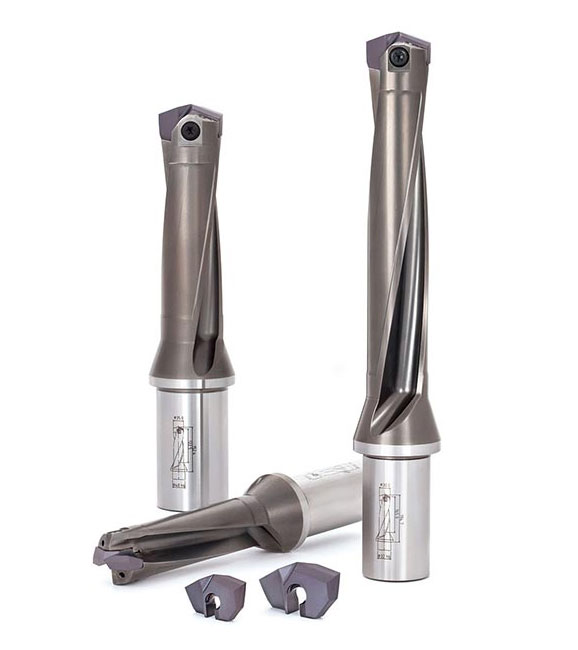 Applications & Features
1. Two effective cutting edges
• The drill head with two effective cutting edges provides high productivity and reliability.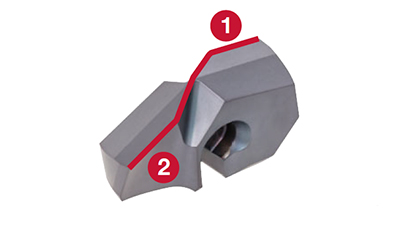 2. Unique clamping system
• The drill head change is possible without removing the drill body from the tool holder or the spindle, eliminating re-adjustments.
• Asymmetric shaped drill head not only secures stability in heavy machining but also error-proofs drill head installation.
• The drill body has a wide supporting area for the drill head for rigid insert clamping.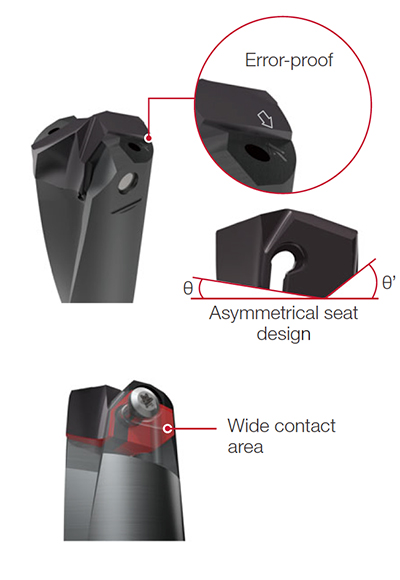 Inserts & Grades
AH725




P15 – P30 / M15 – M30 / K25 – K30 / S15 – S25

Good balance between wear and chipping resistance

Suitable for machining steel and stainless steel under general cutting  conditions
LEARN MORE
AH9130




P15 – P35 / M25 – M35 / K10 – K25 / S15 – S30
High wear resistance
Designed for drilling various materials
LEARN MORE
Drill bodies
Practical examples
Part:
Gate valve
Material:
SUS304 / X5CrNi18-9
Drill:
TIS300F40-5
Head:
SMP300
Grade:
AH725
Cutting conditions:
Vc = 60 (m/min)
f = 0.25 (mm/rev)
Vf = 160 (mm/min)
H = 120 (mm)
Machine: Horizontal M/C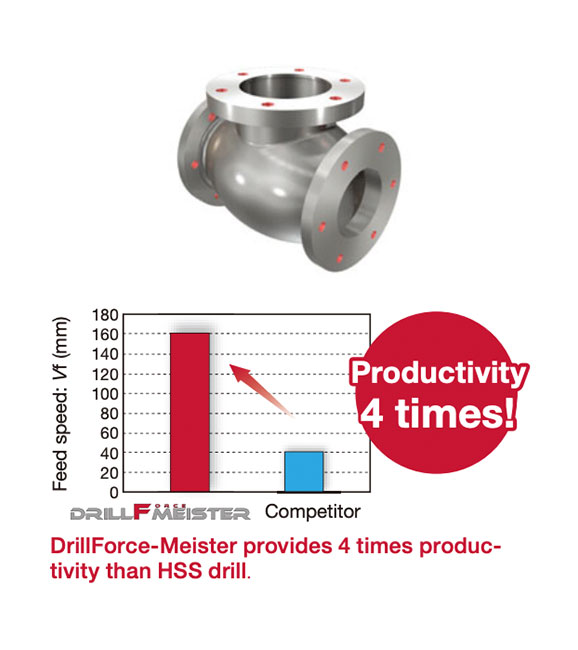 Part:
Slewing ring
Material:
SCM440 / 42CrMo4
Drill:
TIS330F40-5
Head:
SMP331
Grade:
AH725
Cutting conditions:
Vc = 100 (m/min)
f = 0.4 (mm/rev)
Vf = 380 (mm/min)
H = 150 (mm)
Machine: Vertical M/C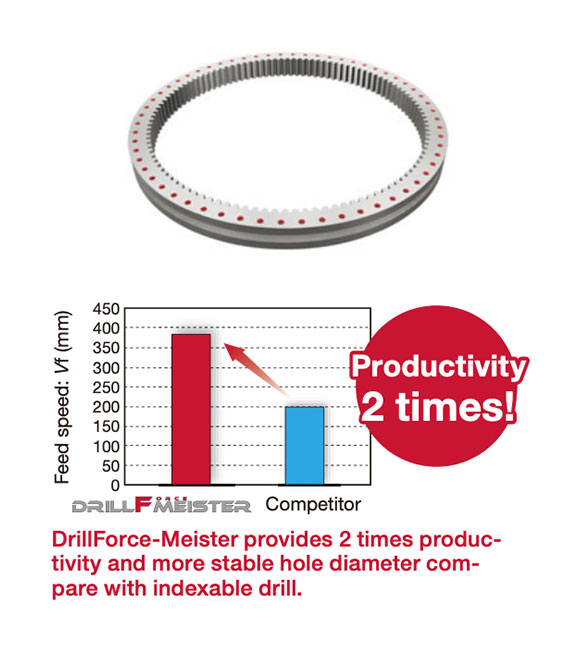 Standard cutting conditions
SMP General purpose
ISO

Workpiece materials

Cutting speed

Feed: f (mm/rev)

Vc (m/min)
ø20 – 29.9
ø30 – 35.9
ø36 – 41
Low carbon steel
S15C, S20C, etc.
C15E4, etc.
80 – 140
0.2 – 0.5
0.2 – 0.5
0.2 – 0.55
Carbon steel and alloy steel
S55C, SCM440, etc.
C55, 42CrMo4, etc.
80 – 130
0.2 – 0.5
0.2 – 0.5
0.2 – 0.55
Prehardened steel
NAK80, PX5, etc.
50 – 100
0.2 – 0.5
0.2 – 0.5
0.2 – 0.55
Stainless steel
SUS304, SUS316, etc.
X5CrNi18-9, X5CrNiMo17-12-3, etc.
40 – 80
0.15 – 0.3
0.2 – 0.3
0.2 – 0.35
Grey cast iron
FC250, FC300, etc.
250, 300, etc.
80 – 180
0.25 – 0.55
0.25 – 0.55
0.3 – 0.6
Ductile cast iron
FCD400, FCD600, etc.
400-15, 600-3, etc.
80 – 140
0.25 – 0.55
0.25 – 0.55
0.3 – 0.6
Non ferrous materials
100 – 200
0.4 – 0.6
0.4 – 0.6
0.5 – 0.7
Heat-resistant alloys
Inconel718, etc.
20 – 50
0.1 – 0.2
0.1 – 0.2
0.1 – 0.25
Titanium alloys
Ti-6AI-4V, etc.
20 – 50
0.1 – 0.2
0.1 – 0.2
0.1 – 0.25
Hard materials
20 – 60
0.1 – 0.2
0.1 – 0.2
0.1 – 0.25
SMF Flat geometry head
ISO

Workpiece materials

Cutting speed

Feed: f (mm/rev)

Vc (m/min)
ø20 – 29.9
ø30 – 35.9
ø36 – 41
Low carbon steel
S15C, S20C, etc.
C15E4, etc.
80 – 140
0.2 – 0.5
0.2 – 0.5
0.2 – 0.55
Carbon steel and alloy steel
S55C, SCM440, etc.
C55, 42CrMo4, etc.
80 – 130
0.2 – 0.5
0.2 – 0.5
0.2 – 0.55
Prehardened steel
NAK80, PX5, etc.
50 – 100
0.2 – 0.5
0.2 – 0.5
0.2 – 0.55
Stainless steel
SUS304, SUS316, etc.
X5CrNi18-9, X5CrNiMo17-12-3, etc.
40 – 70
0.15 – 0.25
0.2 – 0.3
0.2 – 0.35
Grey cast iron
FC250, FC300, etc.
250, 300, etc.
80 – 180
0.25 – 0.55
0.25 – 0.55
0.3 – 0.6
Ductile cast iron
FCD400, FCD600, etc.
400-15, 600-3, etc.
80 – 140
0.25 – 0.55
0.25 – 0.55
0.3 – 0.6
Non ferrous materials
100 – 200
0.4 – 0.6
0.4 – 0.6
0.5 – 0.7
Heat-resistant alloys
Inconel718, etc.
20 – 50
0.1 – 0.2
0.1 – 0.2
0.1 – 0.25
Titanium alloys
Ti-6AI-4V, etc.
20 – 50
0.1 – 0.2
0.1 – 0.2
0.1 – 0.25
Hard materials
20 – 60
0.1 – 0.2
0.1 – 0.2
0.1 – 0.25
SMC High precision drilling
ISO
Workpiece materials

Cutting speed

Feed: f (mm/rev)
Vc (m/min)
ø26 – 33
Low carbon steel
S15C, S20C, etc.
C15E4, etc.
80 – 140
0.2 – 0.5
Carbon steel and alloy steel
S55C, SCM440, etc.
C55, 42CrMo4, etc.
80 – 130
0.2 – 0.5
Prehardened steel
NAK80, PX5, etc.
50 – 100
0.2 – 0.5
Grey cast iron
FC250, FC300, etc.
250, 300, etc.
80 – 180
0.25 – 0.55
Ductile cast iron
FCD400, FCD600, etc.
400-15, 600-3, etc.
80 – 140
0.25 – 0.55
Non ferrous materials
100 – 200
0.4 – 0.6
Hard materials
20 – 60
0.1 – 0.2
For more information about this product, visit our online e-catalog or download the product report:
BACK