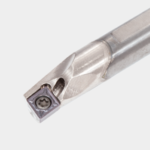 Highly rigid internal toolholder with excellent chip evacuation
Ideal tool geometry has been developed for excellent chip evacuation by extensive structural analysis simulation.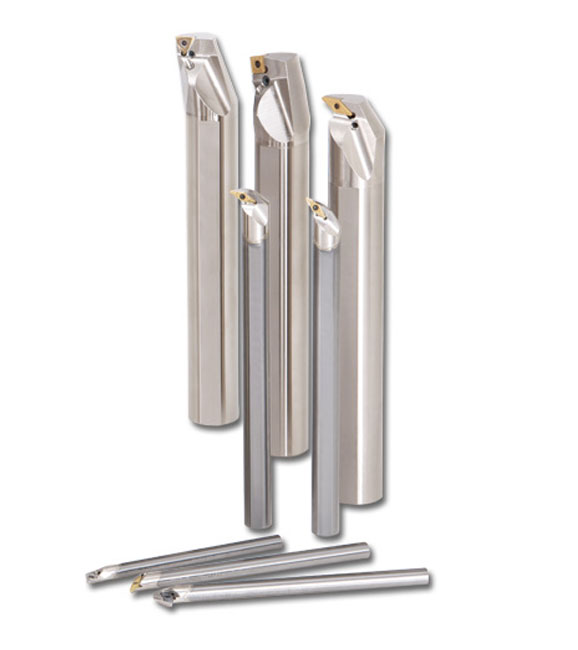 Applications & Features
Engineered for tool strength and optimal chip evacuation
1. Tool body of special alloy steel, designed to reduce chatter !
• Ensures superior surface finish quality over conventional ID turning tools !
• Improved tool life, efficiency, and economy !


2. Optimal holder design assures low cutting load and high performance in the smallest bore diameters !

3. Easy to use
Marking specifications

Inserts & Grades
Toolholders

Stream Jet Bar
Highly rigid internal toolholder with excellent chip evacuation
LEARN MORE
Practical examples
Part:
Machine parts
Material:
S35C (C35)
Toolholder:
E20S-SDUCR11-D270
Insert:
DCMT11T304-PS
Grade:
T9215
Cutting conditions:
Vc = 70 – 160 (m/min)
f = 0.12 – 0.2 (mm/rev)
ap = 1.0 (mm)
Coolant: Wet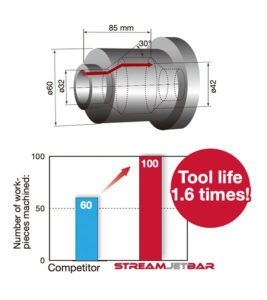 Part:
Automotive parts
Material:
S45C (C45)
Toolholder:
A12M-SDUPL07-D180-P
Insert:
DPMT070204-PS
Grade:
T9215
Cutting conditions:
Vc = 130 (m/min)
f = 0.1 (mm/rev)
ap = 1.5 (mm)
Coolant: Wet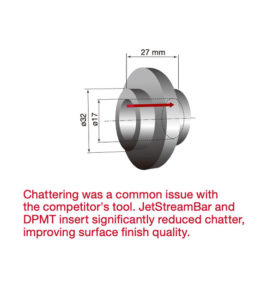 Standard cutting conditions
BACK