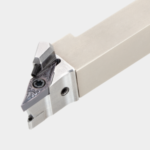 Modular head turning toolholder system for Swiss machines
Significantly reduces machine downtime for changing tools and setups
Applications & Features
1. Unified cutting head sizes
Designed with common functional lengths (LF), the cutting heads allow easy tool changes without removing the shank from the tool post. 

2. High repeatability*
ModuMini-Turn provides the cutting edge point position with high repeatability with an accuracy of ±5 μm or less for the x and z axis.
*Using the same type of head, shank, and insert shape
3. Shank size flexibility
Applicable for many types of machines, due to the large variety of shank lengths. The same coupling shape allows shared heads to all types of shanks.
4. Unique coupling design
Simply loosen the clamping screw for easy tool exchanges. Unique coupling design allows extremely high repeatability.
Inserts & Grades
Bodies
For more information about this product, visit our online e-catalog or download the product report:
BACK