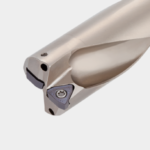 Indexable drill with economical 6 cutting edges insert
6 cornered insert with high performance that's an extremely economical solution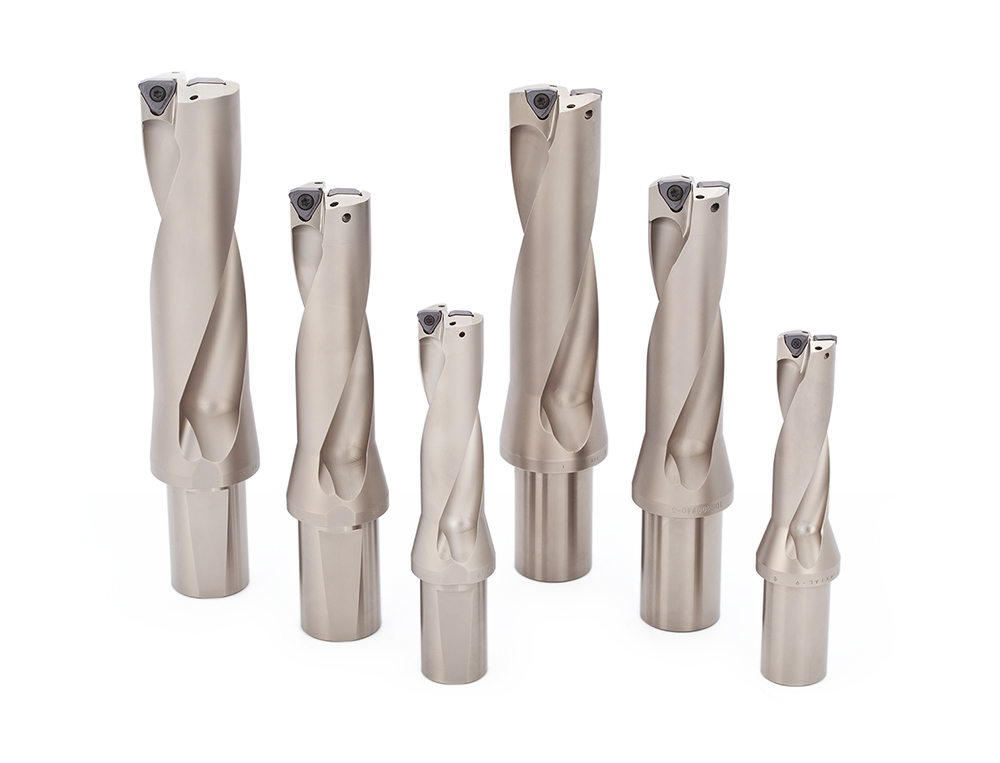 Applications & Features
1. Double-sided insert with 6-cutting edges
• TungSixDrill is the first indexable drill in the world to adapt double-sided inserts with 6-cutting edges, reducing the insert consumption for the customers.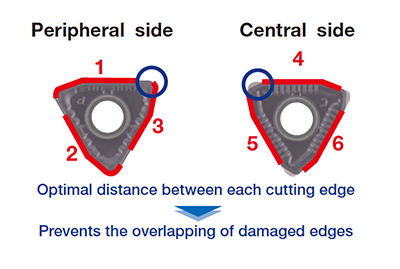 2. Low cutting force even with double sided insert
• The cutting forces are almost equal to competitors positive single sided inserts, especially at higher feed rates, thus complementing higher productivity.

3. Enhanced corner of central insert
• The central corner is strengthened by an obtuse angle relief thus increasing the corner strength and reliability.

4. TungDrillBig
Drill body with adjustable cartridge covers hole diameter ranges from: øDc: ø55 mm – ø80 mm, L/D = 2.5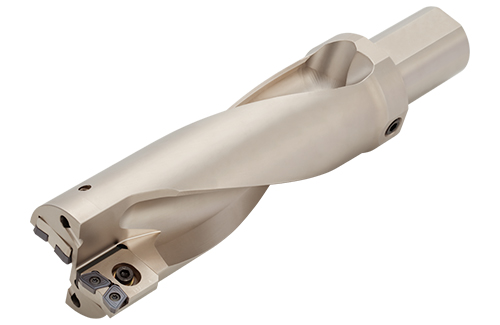 Highly rigid body and optimized insert position

Provides well balanced cutting forces and stable machining conditions for highly accurate hole making.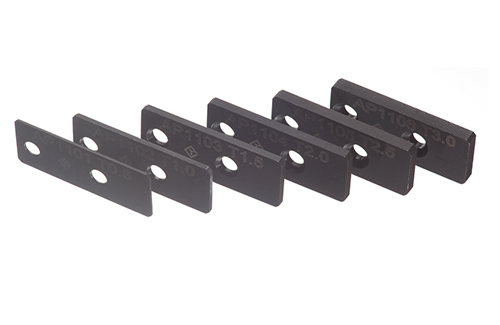 Adjustable tool diameter

TungDrillBig features 5 drill body sizes that can accommodate a range of setting plates covering a diameter range from ø55 mm – ø80 mm.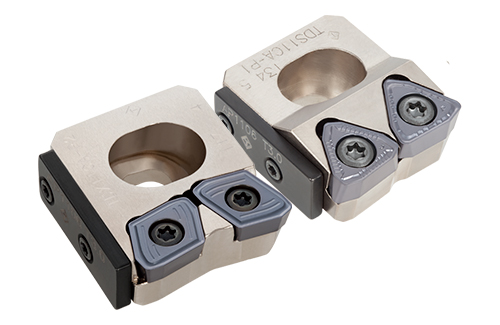 Variety of design options

TungDrillTwisted and TungDrill-Six type cartridges can be affixed to the same body.
Inserts & Grades
Drill bodies & Related tools
Practical examples
Part:
Connecting rod
Material:
S55C / C55
Drill:
TDS200F25-2, øDc = 20 mm
Insert:
WWMU05X205R-DJ
Grade:
AH9030
Cutting conditions:
Vc = 200 (m/min)
f = 0.15 (mm/rev)
Vf = 477 (mm/min)
H = 30 (mm)
Coolant: Wet
Machine: Vertical M/C, BT40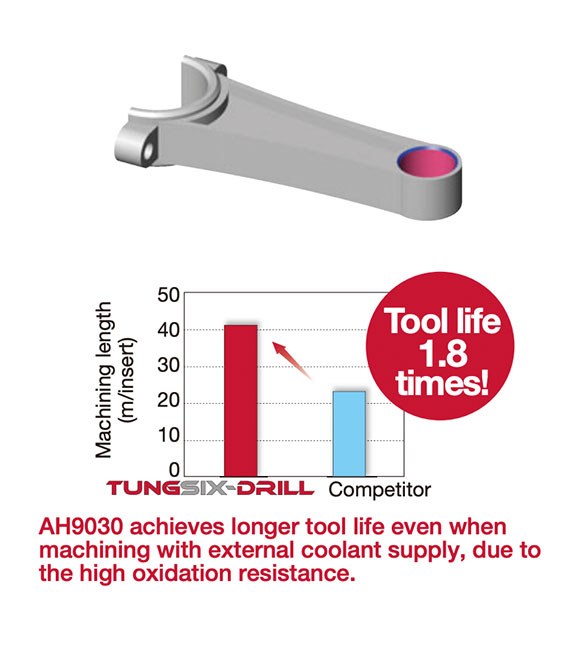 Part:
Housing
Material:
FCD450 / GGG45
Drill:
TDS420F40-2, øDc = 42 mm
Insert:
WWMU11X512R-DJ
Grade:
AH9030
Cutting conditions:
Vc = 120 (m/min)
f = 0.2 (mm/rev)
Vf = 180 (mm/min)
H = 80 (mm)
Coolant: Wet
Machine: NC lathe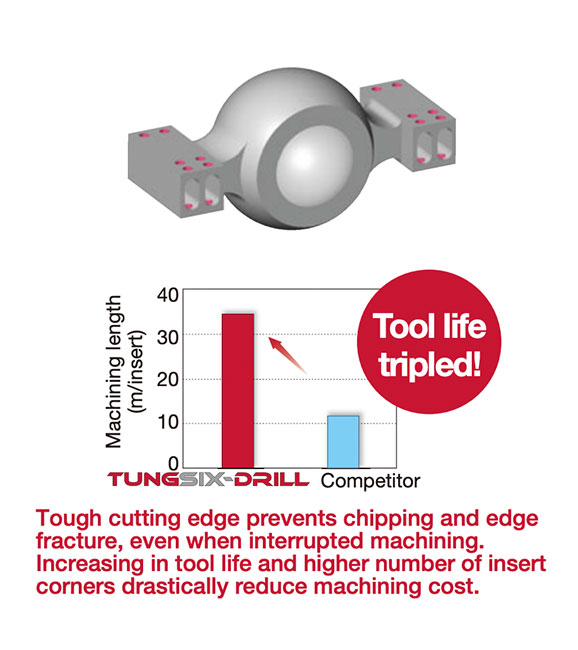 Part:
Knuckle
Material:
SCM440 / 42CrMo4
Drill:
TDS500F40-3, øDc = 50 mm
Insert:
WWMU13X512R-DJ
Grade:
AH9030
Cutting conditions:
Vc = 160 (m/min)
f = 0.11 (mm/rev)
Vf = 112 (mm/min)
H = 80, 65 (mm)
Coolant: Wet
Machine: Horizontal M/C, BT50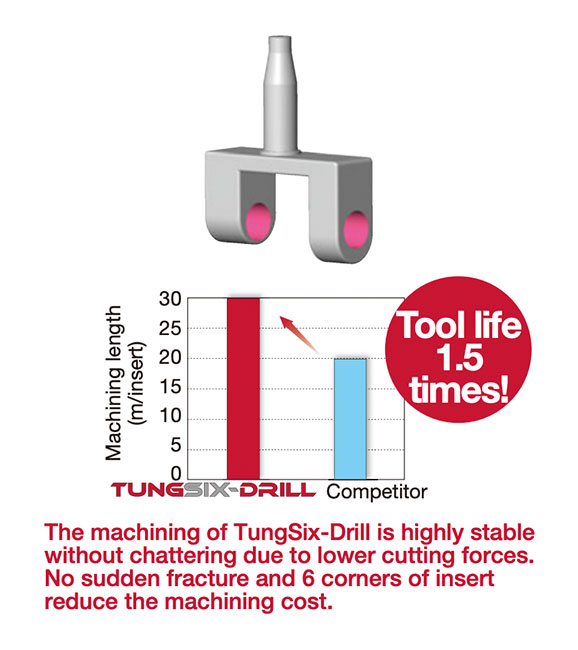 Standard cutting conditions
ISO
Workpiece materials
Priority
Chip
breakers
Grade
Cutting speed
Feed: f (mm/rev)
L/D = 2, 3
L/D = 4
DC (mm)
DC (mm)
Vc (m/min)
ø20 – ø27.5
ø28 – ø38
ø39 – ø54
ø20 – ø27
ø28 – ø38
ø39 – ø54
Low carbon steels (C < 0.3)
SS400, SM490, S25C, etc.
St42-1, St52-3, C25, etc.
First choice
DS
AH6030
160 – 250
0.04 – 0.1
0.04 – 0.1
0.04 – 0.1
0.04- 0.1
0.04 – 0.1
0.04 – 0.1
Wear resistance
DJ
AH9030
160 – 320
0.04 – 0.1
0.04 – 0.1
0.04 – 0.1
0.04 – 0.1
0.04 – 0.1
0.04 – 0.1
Carbon steels (C > 0.3)
S45C, S55C, etc.
C45, C55, etc.
First choice
DJ
AH9030
80 – 250
0.06 – 0.15
0.06 – 0.16
0.08 – 0.18
0.06 – 0.15
0.06 – 0.15
0.08 – 0.17
Fracture resistance
DJ
AH3135
80 – 250
0.04 – 0.12
0.04 – 0.13
0.04 – 0.15
0.04 – 0.12
0.04 – 0.13
0.04 – 0.15
Low alloy steels
SCM415, etc.
First choice
DS
AH6030
160 – 250
0.04 – 0.12
0.04 – 0.12
0.04 – 0.12
0.04 – 0.12
0.04 – 0.12
0.04 – 0.12
Wear resistance
DJ
AH9030
160 – 250
0.06 – 0.12
0.06 – 0.14
0.06 – 0.14
0.06 – 0.12
0.06 – 0.14
0.06 – 0.14
Alloy steels
SCM440, SCr420, etc.
42CrMo4, 20Cr4, etc.
First choice
DJ
AH9030
80 – 200
0.06 – 0.15
0.06 – 0.16
0.08 – 0.18
0.06 – 0.15
0.06 – 0.15
0.08 – 0.17
Fracture resistance
DJ
AH3135
80 – 200
0.04 – 0.12
0.04 – 0.13
0.04 – 0.15
0.04 – 0.12
0.04 – 0.13
0.04 – 0.15
Stainless steels (Austenitic)
SUS304, SUS316, etc.
X5CrNi18-9, X5CrNiMo17-12-2, etc.
First choice
DS
AH6030
100 – 200
0.04 – 0.1
0.04 – 0.12
0.04 – 0.12
0.04 – 0.12
0.04 – 0.12
0.04 – 0.12
Fracture resistance
DJ
AH3135
100 – 200
0.04 – 0.1
0.04 – 0.12
0.04 – 0.12
0.04 – 0.12
0.04 – 0.12
0.04 – 0.12
Stainless steels (Martensitic and ferritic)
SUS430, SUS416, etc.
X6Cr17, X20Cr13, etc.
First choice
DS
AH6030
100 – 200
0.04 – 0.1
0.04 – 0.12
0.04 – 0.12
0.04 – 0.12
0.04 – 0.12
0.04 – 0.12
Fracture resistance
DJ
AH3135
100 – 200
0.04 – 0.1
0.04 – 0.12
0.04 – 0.12
0.04 – 0.12
0.04 – 0.12
0.04 – 0.12
Stainless steels (Precipitation hardening)
SUS630, etc.
X5CrNiCuNb16-4, etc.
First choice
DS
AH6030
80 – 120
0.04 – 0.1
0.04 – 0.1
0.04 – 0.1
0.04 – 0.1
0.04 – 0.1
0.04 – 0.1
Fracture resistance
DJ
AH3135
80 – 120
0.04 – 0.1
0.04 – 0.1
0.04 – 0.1
0.04 – 0.1
0.04 – 0.1
0.04 – 0.1
Grey cast irons
FC250, etc.
GG25, etc.
First choice
DJ
AH9030
80 – 250
0.06 – 0.15
0.06 – 0.18
0.08 – 0.2
0.06 – 0.15
0.06 – 0.16
0.08 – 0.18
Fracture resistance
DJ
AH3135
80 – 200
0.06 – 0.13
0.06 – 0.16
0.08 – 0.18
0.06 – 0.13
0.06 – 0.16
0.08 – 0.18
Ductile cast irons
FCD700, etc.
GGG70, etc.
First choice
DJ
AH9030
80 – 200
0.06 – 0.15
0.06 – 0.18
0.08 – 0.2
0.06 – 0.15
0.06 – 0.16
0.08 – 0.18
Fracture resistance
DJ
AH3135
80 – 150
0.06 – 0.13
0.06 – 0.16
0.08 – 0.18
0.06 – 0.13
0.06 – 0.16
0.08 – 0.18
Aluminium alloy
First choice
DS
AH6030
200 – 400
0.1 – 0.18
0.1 – 0.2
0.1 – 0.25
0.1 – 0.18
0.1 – 0.2
0.1 – 0.2
0.1 – 0.18
0.1 – 0.2
0.1 – 0.25
0.1 – 0.18
0.1 – 0.2
0.1 – 0.2
Heat resistant alloy
Inconel718, etc
First choice
DS
AH6030
20 – 60
0.04 – 0.08
0.04 – 0.08
0.04 – 0.1
0.04 – 0.1
0.04 – 0.1
0.04 – 0.1
Fracture resistance
DJ
AH3135
20 – 60
0.04 – 0.08
0.04 – 0.08
0.04 – 0.1
0.04 – 0.1
0.04 – 0.1
0.04 – 0.1
Titanium alloys
Ti-6Al-4V, etc.
First choice
DS
AH6030
40 – 120
0.06 – 0.1
0.06 – 0.12
0.06 – 0.14
0.06 – 0.14
0.06 – 0.14
0.06 – 0.14
Fracture resistance
DJ
AH3135
40 – 120
0.06 – 0.1
0.06 – 0.12
0.06 – 0.14
0.06 – 0.14
0.06 – 0.14
0.06 – 0.14
Hardened steel
Over 40HRC
First choice
DJ
AH9030
50 – 100
0.04 – 0.08
0.04 – 0.08
0.04 – 0.1
0.04 – 0.08
0.04 – 0.08
0.04 – 0.08
Fracture resistance
DJ
AH3135
40 – 80
0.04 – 0.08
0.04 – 0.08
0.04 – 0.1
0.04 – 0.08
0.04 – 0.08
0.04 – 0.08
For more information about this product, visit our online e-catalog or download the product report:
BACK