The land of watches, Switzerland, gave its name to these miniature Swiss machines
When the clock towers shrunk and came to be placed on our wrist, it called for machines to manufacture scaled versions of those big gears, ratchets, levers, hinges and shafts. Though the size of the clocks shrunk, measurement of time remained the same. This required machining of small parts while maintaining precision throughout the entire manufacturing process.
A Swiss machine is capable of producing small parts, manufactured in millions of pieces, yet each piece must be identical and precise, from the first to the millionth piece. It called for mechanization of the process of manufacturing parts.
Understanding Swiss Machines
An appropriate statement for a Swiss machine could be – "Precision delivering Precision".
These multitasking machines are capable of machining small, complex parts with the most minute details, churning out components in a fraction of a minute.
A Swiss machine is:
Precise with high repeatability
Capable of multi-tasking.
Flexible in its operation and easy to setup different components.
Capable of running miniature tools with optimum cutting parameters.
Swiss machines are also called sliding head machines. This is the unique feature of these machines, which helps in machining close to the component chucking face. Machining with such low overhangs, controls the vibration and helps in controlling the dimensional and geometrical accuracies of the component. The tools move only in the direction of depth of cuts. The feed is a result of the firm movement of the component, using a sliding collet. Of course, there is a limitation in the diameter of the component, which is 40mm. The raw material input is in the form of a bar, which is fed thru the two collets – moving and stationary collets.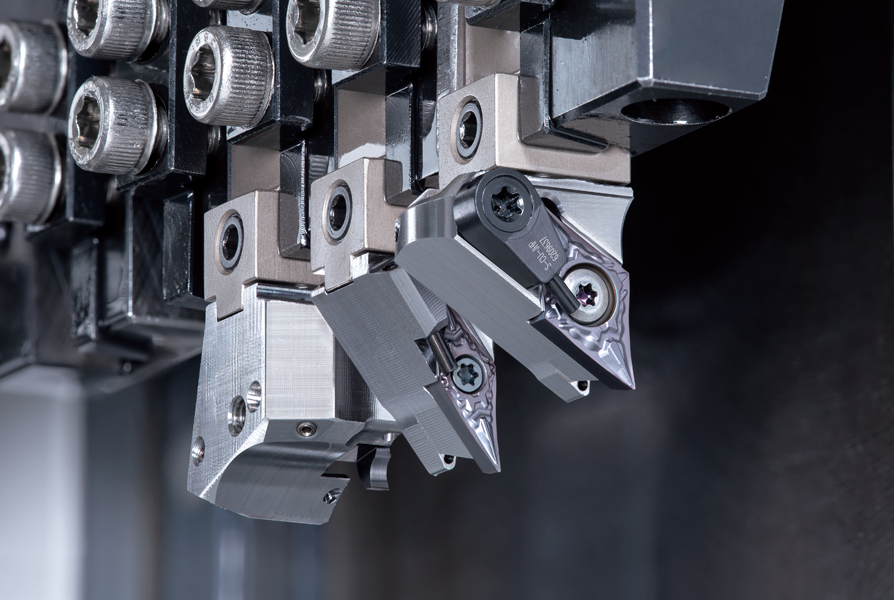 Components Machined on Swiss Machines
There are many applications which are machined on a Swiss machine, from a simple sealing washer to a complex aerospace engine part.
Some components are machined on sliding head machines to meet production numbers at the least possible cost, while other components require high accuracy and multitasking operations. for meeting the production numbers at the least possible cost and some are machined on such machines, which need high accuracy and multitasking operations. CAM programming provides these machines the ability to handle more complex component machining, which otherwise was thought impossible.
Delivering the right amount of fuel, keeping the watch ticking right, sealing the components to make them leak proof, making the toys dance, helping a smartphone capture a great picture or just holding things together perfectly are all some of the functions of the parts machined on a Swiss machine.
Tungaloy's tools for miniature component machining are a perfect alliance to the Swiss machines for producing precise components.
Features of Tungaloy Tools for Swiss Machines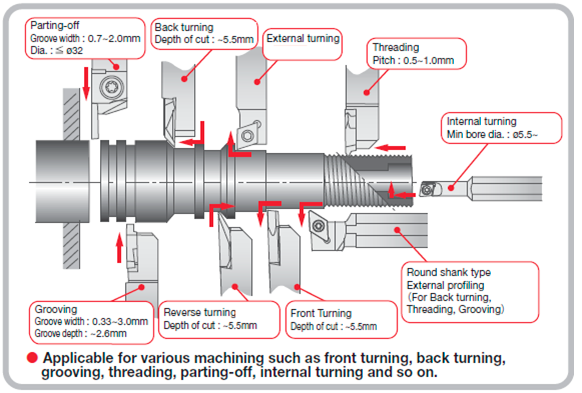 The image above shows some of the popular tools on a Swiss machine which are available thru many suppliers.
Handling small parts and machining intricate features on them and require a different mindset when compared to machining large parts.
Tungaloy's focus is on saving uncut time on a Swiss machine. Setting up the Swiss machine for a new component or indexing inserts, would be considered non-cut time. Tungaloy's insert indexing feature or the new ModuMiniTurn tools offer substantial reduction of this non-cut time. The operating area of these machines is very compact. Hence, Tungaloy has invested a great deal of thought on the accessibility of tool clamping, indexing etc. to increase the operator's safety and ease of use.
At the same time, the carefully crafted insert grade, cutting edge and geometries offer great chip control, dimension repeatability and extended tool life for uninterrupted mass production of components.
Tungaloy's dedicated solutions for Swiss machines exhibit the features below which differentiate them from tools for general machining applications.
| | |
| --- | --- |
| Swiss Machine tools for small parts | General Tools for large part machining |
| Sharp cutting edge with precise honing | Honed edges |
| Ultra-fine chip breaker | Fine chip breakers |
| Uncoated or PVD coated tools | Generally, CVD is applied |
| Small size tools | Relatively bigger tools |
| Tool material which has a vast application range | Grades with dedicated application range |
| Precision ground tool holders. Precise center height. | Moderate to coarse center height tolerance |
| Mostly acute angle tools | Higher included angle tools for better strength |
| Modified clamping to stack more tools closely together | Standard insert clamping designs are fine |
| Holds very close tolerance, as low as few microns, with ease | Can do so but with lot of process controls |
Tungaloy offers a range of precision cutting tools for handling all metal cutting operations on a Swiss machine starting from 0.1mm to indexable tools for turning, threading, boring, milling, drilling and hole finishing operations
Tungaloy offers M-class, G- class and E-class inserts for various machining applications on Swiss Machines to improve both cost and accuracy.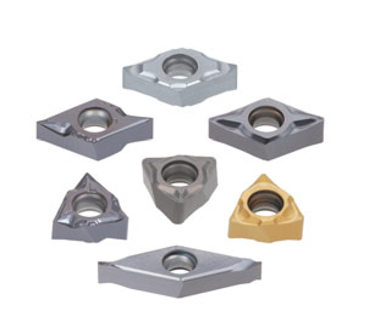 An E-Class insert has very close tolerance on the center height, apart from indexing accuracies. This helps in eliminating chatter and vibration and produces components with close tolerances and surface quality.
Tungaloy offers tools with insert clamping from the sides for easy access of torque wrench.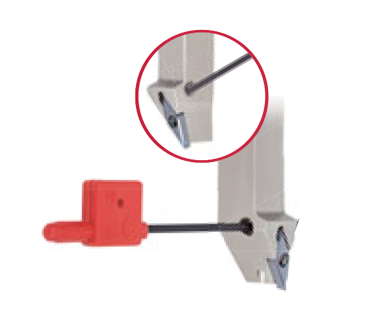 TinyMini-Turn – Solid carbide tools for fine ID machining operations
Tungaloy offers a wide range of miniature tools for internal diameter machining, starting from Diameter of 0.6mm.
Sharp cutting edge with hard wear-resistant coating helps the tools to run longer and consistent.
Precision boring, back boring, grooving, profiling, threading and face grooving can all be processed using TinyMini-Turn tools.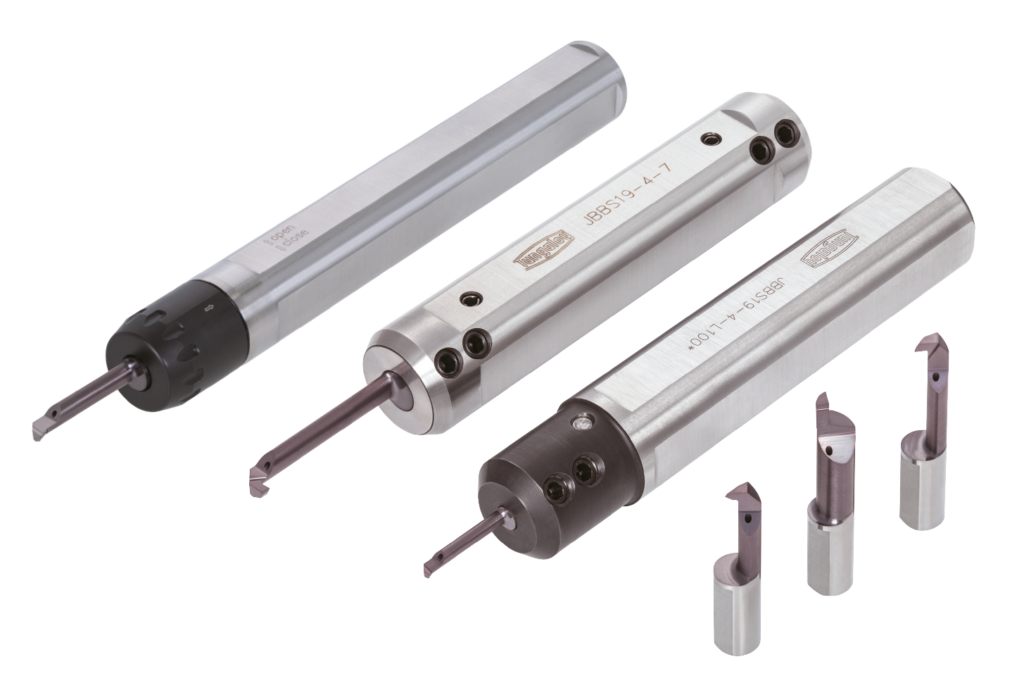 TinyMini-Turn tools are offered with a substrate with balanced wear-resistance and toughness to take care of universal applications and various materials being machined. A thin wear-resistant coating helps overcome the heat challenge and avoids built-up edge and chipping.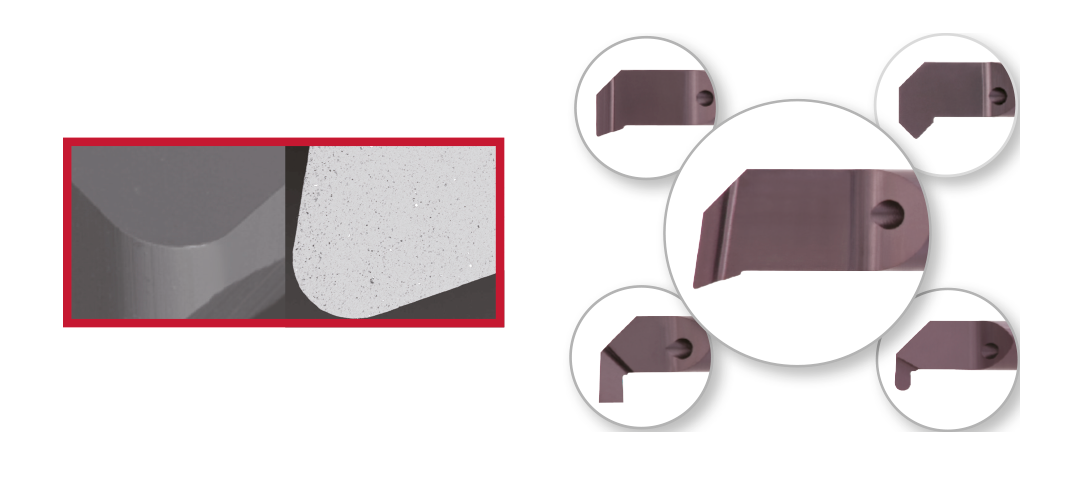 Both indexable tools (for ID machining of 4.5mm bore diameter) and solid carbide TinyMini-Turn tools can be clamped in a 4 coolant holes sleeve for better coolant delivery and smooth chip evacuation.
Ingenious through-coolant sleeve design optimally directs 4 streams of coolant jets close to the cutting zone, providing long tool life, controlled chips formation and evacuation for better part quality.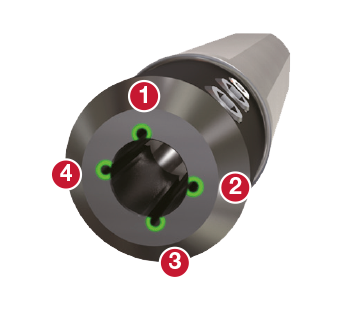 New SH725 grade provides a good combination of wear and fracture resistance, ensuring tool life and wear prediction.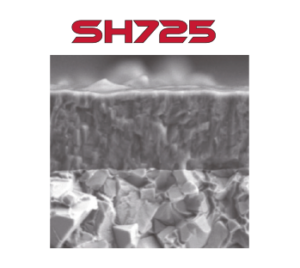 MiniForce-Turn – For external turning applications on Swiss machine
Tungaloy has developed a unique tool series, MiniForce-Turn, which offers both precision and economy. Double-sided positive inserts (6 corners) for precision turning, profiling and fine finishing offers double the number of edges yet is as positive as a single-sided insert. Dovetail seating of the inserts ensures repeatability in dimensional control after every indexing.
Wide range of chip groove geometries in MiniForce-Turn offers flexibility and great control on the component accuracies.
Inserts in both ground and precision sintered are available to choose from in a wide range of shapes.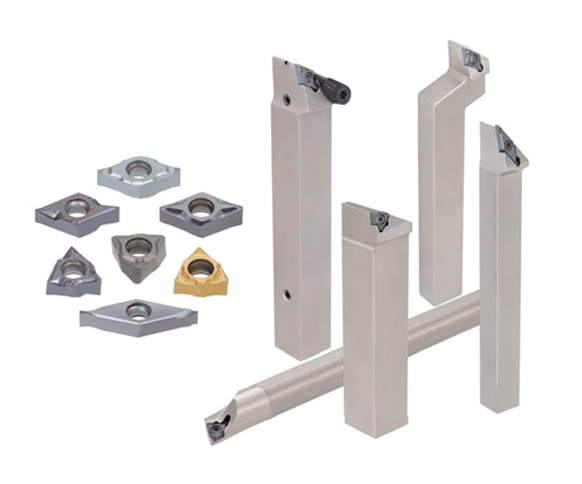 AddForceCut – Parting-off tool
Starting from 1mm this parting-off tool, can handle parting of up to Ø20mm bars. Creative insert clamping design helps in keeping the insert firmly seated in the pocket and helps clean parting-off with the least deflection.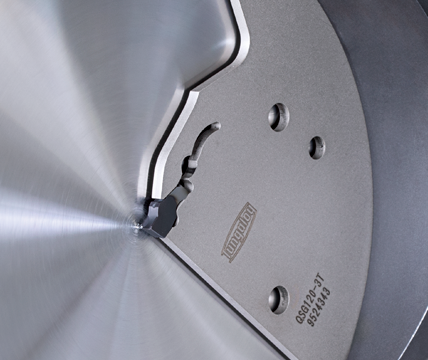 DuoJustCut is a unique parting and deep grooving tool for Swiss machines. One tool holder takes different insert sizes to part-off Ø6 to Ø20mm bars. The pressed chip groove on the insert with width as low as 0.6mm helps in clean parting process with effective chip control. Above all, the high pressure thru coolant capability makes this tool a must use on all Swiss lathe parting applications.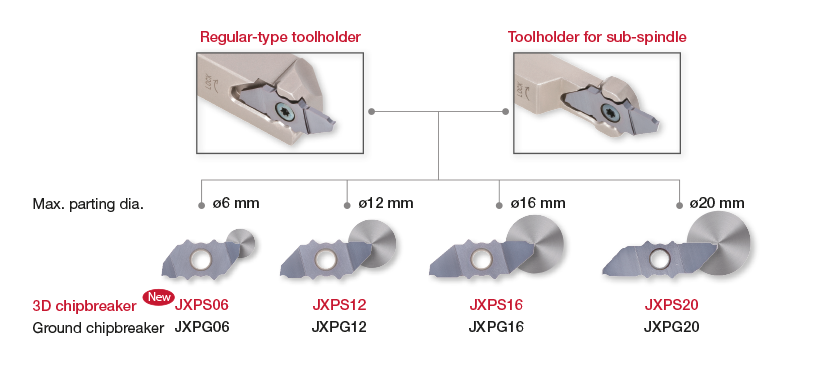 TungCut -1.2 mm side clamp parting holder
Dual saving of non-cut time (insert indexing time) and material saving of up to 40% when compared to conventional TungCut parting tool using 2.0mm parting insert.

As the grub screw is tightened, the clamping pin moves downward to clamp the insert securely.
Tungaloy offers ModuMiniTurn, the modular turning tool series dedicated to the ever increasing demand for low setup time and reduction of nonproductive time.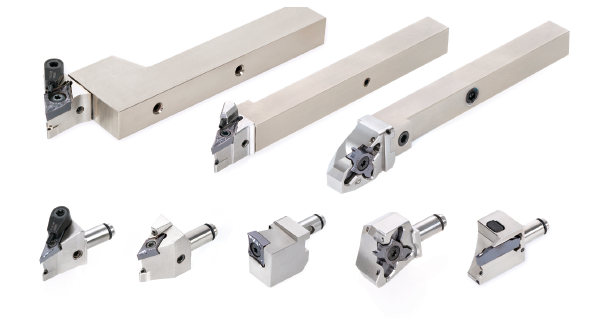 Modular design of the heads helps in quick and easy indexing with the least amount of setup time. Repeatability of the tool is within 5 microns which provides extreme precision.
High pressure thru coolant capability helps in controlling the chips and offer extended tool life.
One shank can mount multiple heads thus offering flexibility in the quick changing process.
Y-Axis machining capability helps further in reducing the vibration, improving chip evacuation and improving productivity.
Drill Line for Swiss Machines
Starting from 0.1mm, Tungaloy offers a range of precision drilling products for use on Swiss Machines.
GigaMiniDrills are excellent small drills for all types of ductile materials. The diameter range is from 0.1-3 mm in steps of 0.01mm with drilling depth of up to 15 times the diameter.
AddMeisterDrill is the new range of modular drills starting from diameter 4.0mm to 5.9mm in increments of 0.1mm and up to 5 times L/D.
The drill body has a cylindrical shank and offers good control on runout over heads assembly.
Easy clamping is a creative feature of this product which helps in reduced setup time.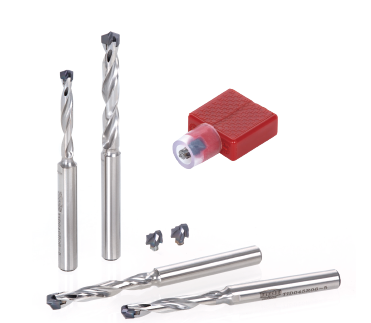 Indexable endmill, as small as Ø6mm.
2 insert sizes – 04 and 06 M-class AVMT04 and G-class AVGT06 inserts with zero as the minimum corner radius.
Modular tools available for easy setting on the machine.
Fine pitch cutters for unmatched productivity.
Grades available for machining all types of materials.
Thru coolant as standard option for good cooling and chip evacuation.
Unique V-Shaped insert seating and a strong insert makes it THE best indexable tool in its range.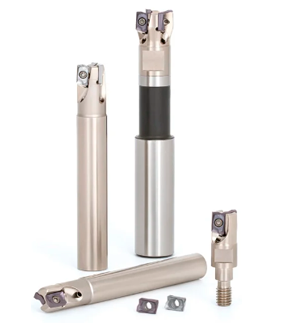 TungMeister exchangeable head endmills start with a diameter of 5.0mm up to 16mm. it is an excellent solution for axial & radial milling of components being machined.
This tooling system is vast in offering and flexible in operation. From a simple chamfering head to a complex chatter free multi flute end mill, TungMeister encompasses all types of milling tools to do away with regrinding of solid carbide tools.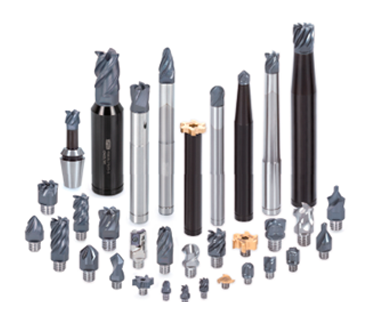 Swiss machines are small but the support it needs from a tooling partner is big. Evolution of cutting tools to suit the performance of a machine is very important so that the actual technological benefit reaches the customer. Tungaloy has been working with the Swiss machine manufacturing companies and customers to constantly capture the developments and evolve its tool offering. The range of tools offered by Tungaloy, plus the benefits while in use, provide the precision for these extremely intricate applications.