Iwaki, August 2021 — Tungaloy's Tung-Tri square shoulder milling cutter series now offers Size 04 inserts.
Tung-Tri is an indexable square shoulder milling cutter series that uses three-edged inserts that are developed specifically to deliver precision, productivity, and cost efficiency in shoulder milling applications. The series now offers four insert sizes of 04, 06, 10, and 15, allowing users to choose an optimal tool setup according to the given part sizes and required material removal volume.
Additive manufacturing and other near-net-shape forging and casting technologies are playing an increasing role in today's metal parts manufacturing, which requires very little excess material to be removed to achieve the final specifications. To address these needs, Tung-Tri introduces size 04 insert with 3.5 mm (.138″) cutting edge length.
The new Tung-Tri 04 insert is extremely small with a 4.0 mm (5/32″) inscribed circle but carries the same benefits of light cutting and long tool life that existing Tung-Tri inserts have been delivering. This feature allows Tung-Tri 04 to have 1.5-2 times higher tooth density compared with existing Tung-Tri 06, enabling a 16 mm (5/8″) diameter cutter to carry 4 teeth and 25 (1″) mm diameter cutter 6 teeth.
The cutter also offers a good alternative to face mill cutters when face milling long reach areas as its wiper edges create excellent surface finish, eliminating secondary process for surface finishing.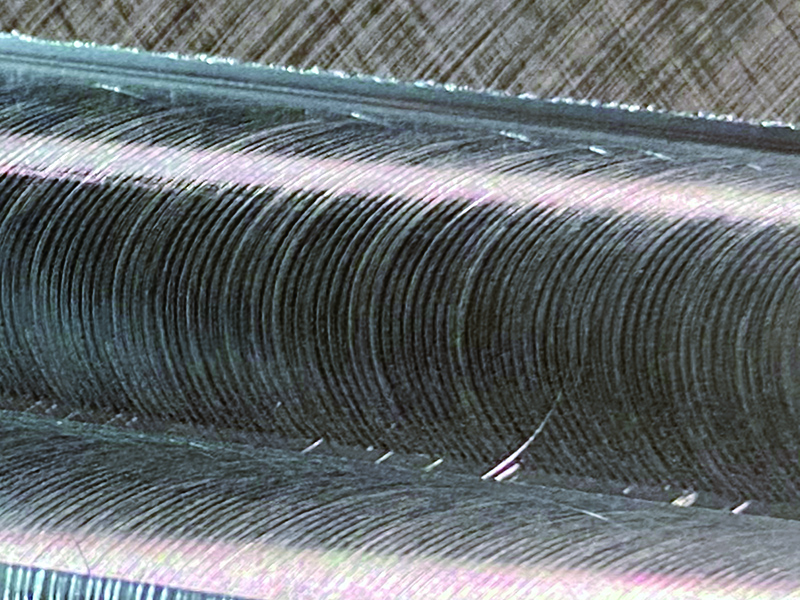 • The Tung-Tri series —
Economical shoulder milling cutters with an extensive lineup, Tung-Tri offers cost-efficient three-edged inserts that have helical cutting edges with large axial and radial rake angles, designed to generate low cutting forces and close work tolerances. The inserts are now available in sizes 04, 06, 10, and 15 and come in three different chip former styles: general-purpose MJ geometry, AJ for non-ferrous applications, and NMJ with serrated-edge chip splitter for efficient removal of large volume of materials. The cutter bodies are available in small-diameter cylindrical shanks, shell mill styles, or large-diameter porcupine cutters for roughing processes.
The insert cutting edge is designed with a unique flank profile with multiple relief angles providing sharpness which generates low cutting forces and robustness to minimize fracture. In addition, the variable-pitch cutter body reduces chatter generation. Tung-Tri provides a broad range of shoulder milling applications with process security and high precision machining.
Product information
No. 421S2-G (Metric)