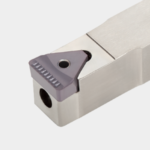 Unique system for wide grooving and wide profile grooving
TungHeavyGroove efficiently reduces machining time on wide-width grooving and forming of complex profiles
Applications & Features
1. Easy insert clamp operated from front face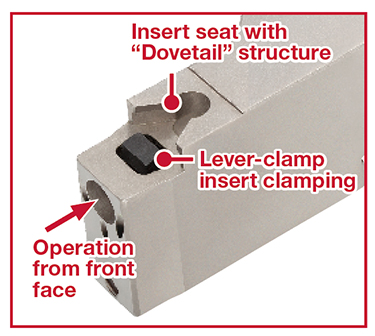 Indexing can be operated from front face of toolholder, reducing insert changing time and machine downtime.
2. Highly rigid lever-clamping provides stable grooving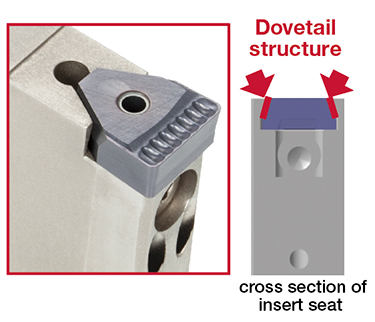 Dovetail structure prevents insert movement during wide grooving operations.
3. Profile grooving inserts and tools
Inserts are supplied in width (W) 10 – 25 mm.
The insert length is extended for profile shapes up to 5.5 mm depth.

Inserts & Grades
AH8015





P10 – P20 / M10 – M20 / K10 – K25 / S10 – S20 / H10 – H20
Good balance between wear and fracture resistance
First choice for machining heat-resistant alloy under general cutting conditions
First choice for threading
LEARN MORE
T9215



P10 – P20 / M10 – M20 / K10 – K20
Well-balanced between wear and chipping resistance
First choice for steel
High versatility for a wide range of applications
LEARN MORE
Toolholders

TungHeavyGroove Toolholders
Two styles of tools are available
Lever lock type
Screw on type
LEARN MORE
Practical examples
Part:
Machine part
Material:
SCM415
Toolholder:
FPGR3232P-10T36
Insert:
PSGM10-08 (W = 10 mm)
Grade:
AH725
Cutting conditions:
Vc = 110 (m/min)
f = 0.3 (mm/rev)
Number of pass for 1 groove = 2
Application: Grooving
Coolant: Wet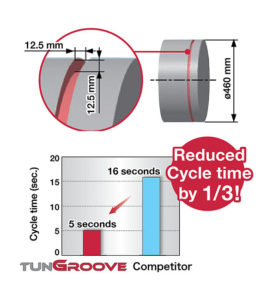 Part:
Engine part
Material:
Cast steel
Toolholder:
FPGR3232P-10T36
Insert:
PSGM10-08 (W = 10 mm)
Grade:
AH725
Cutting conditions:
Vc = 65 (m/min)
f = 0.37 (mm/rev)
Number of pass for 1 groove = 3
Application: Grooving
Coolant: Wet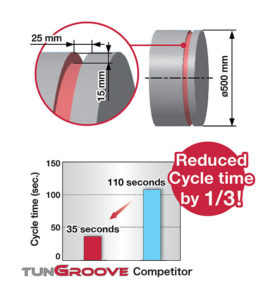 Standard cutting conditions
Wide grooving
ISO
Workpiece materials
Hardness(HB)
Grade
Cutting speed
Vc (m/min)
Alloy Steels
SCM440, 42CrM04, etc.
< 300
AH725
50 – 180
Alloy Steels
SCM440, 42CrM04, etc.
< 300
UX30
50 – 120
Forming
ISO
Workpiece materials
Hardness(HB)
Grade
Cutting speed
Vc (m/min)
Steels
S45C, C45, etc.
< 200
UX30
50 – 150
Alloy steels
SCM440, 42CrMo4, etc.
< 300
UX30
50 – 120
Stainless steels
SUS303, X10CrNiS18-9, etc.
< 200
UX30
50 – 120
Grey cast irons
FC250, 250, etc.
–
TH10
50 – 150
Ductile cast irons
FCD450, 450-10S, etc.
–
TH10
50 – 120
Aluminium alloy
Si < 12%, etc.
–
TH10
100 – 500
Wide grooving (HGM insert)
ISO
Workpiece materials
Hardness
Priority
Grade
Cutting speed
Vc (m/min)
Steel
S45C, SCM435, etc.
C45, 34CrMo4, etc.
< 300
First Choice
AH8015
80 – 180
< 300
Wear resistance
T9215
100 – 350
Stainless steel
SUS303, SUS304, etc.
X10CrNiS18-9, X5CrNi18-9, etc.
< 200
First Choice
AH8015
50 – 130
< 200
Wear resistance
T9215
100 – 250
Grey cast iron
FC250, 250, etc.
–
First Choice
AH8015
50 – 180
–
Wear resistance
T9215
140 – 300
Ductile cast iron
FCD450, etc.
450-10S, etc.
–
First Choice
AH8015
50 – 180
–
Wear resistance
T9215
140 – 300
Superalloys
Inconel718, etc.
< HRC 40
First Choice
AH8015
20 – 80
Titanium alloys
Ti-6AL-4V, etc.
< HRC 40
First Choice
AH8015
20 – 80
For more information about this product, visit our online e-catalog or download the product report:
BACK