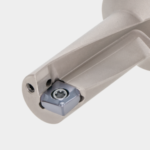 Multifunctional tool for drilling and turning
Multifunctional tool for improved productivity
Applications & Features
1. Minimum number of tools for maximum productivity
• A single TungBoreMini tool can handle multiple operations such as ID turning after drilling without exchanging the tools.
• Allows drilling and hole enlargement on various materials, instead of using a drill and turning tool.
• Can be used just like a standard ISO turning tool for ID, OD, and/or face turning application.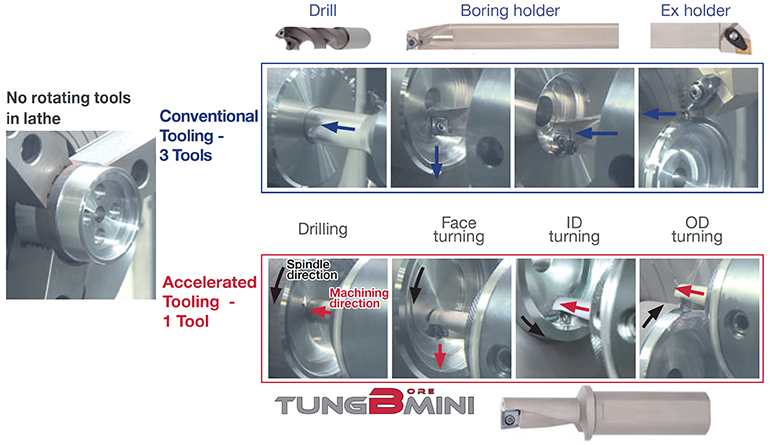 2. Reduced machine downtime
Multifunctional TungBoreMini eliminates tool changeover time, resulting in significantly reduced cycle time – this is especially effective in applications where individual processing time is short and quick, resulting in tremendous improvement in cycle time.

3. Features

Inserts & Grades
AH725




P15 – P30 / M15 – M30 / K25 – K30 / S15 – S25
Good balance between wear and chipping resistance
Suitable for machining steel and stainless steel under general cutting conditions
LEARN MORE
Toolholders
External turning, Internal turning, Face turning, Hole-making

TungBoreMini Toolholders
Multifunctional tool for drilling and turning
LEARN MORE
Practical examples
Part:
Machine parts
Material:
SUS440
Holder:
TBM12R/LF16-2.25
Insert:
XOMU06H204-PS
Grade:
AH725
Cutting conditions:
Vc = 80 (m/min)
f = 0.15 (mm/rev)
ap = 2.5 (mm)
Coolant: Wet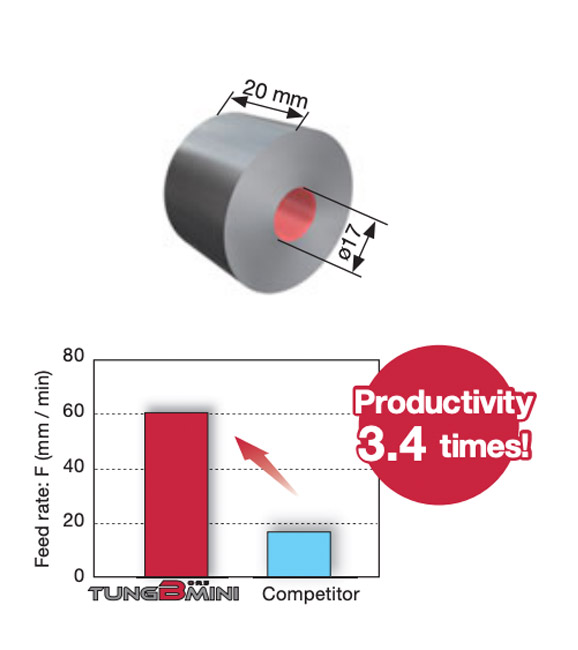 Part:
Machine parts
Material:
SUS304 / X5CrNi18-9
Holder:
TBM12R/LF16-2.25
Insert:
XOMU06H204-PS
Grade:
AH725
Cutting conditions:
Vc = 100 (m/min)
f = Drilling: 0.03, Internal turning:0.1 – 0.15 (mm/rev)
ap = 0.5 (mm)
Coolant: Wet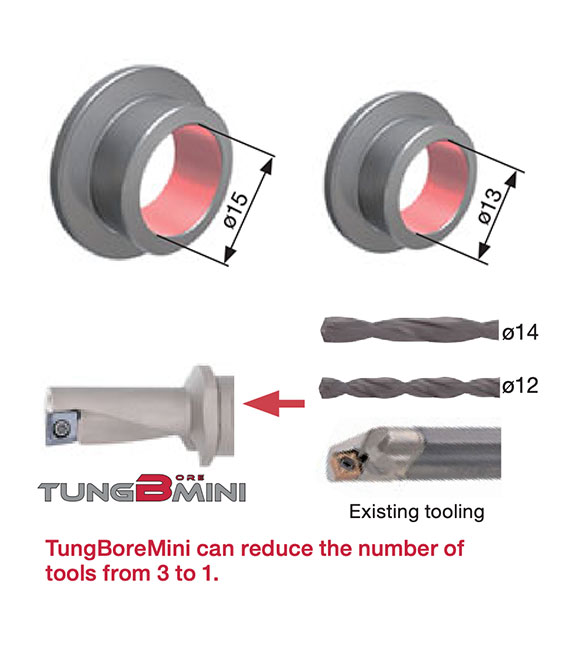 Standard cutting conditions
For more information about this product, visit our online e-catalog or download the product report:
BACK