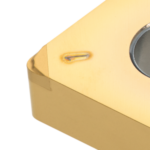 CBN insert with chipbreaker for finishing hardened steel
Innovative 3D chipbreaker on CBN inserts for efficient chip control for finishing hardened steel
Applications & Features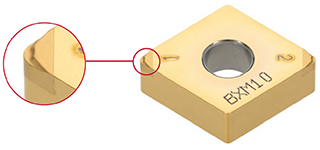 1. New HP chipbreaker For Finishing Hardened Steel
• By separating the chipbreaker from the cutting edge, the cutting force imposed on the cutting edge during machining is significantly reduced, thus providing long tool life.
• The cutting edge preparation is designed to ensure easy cutting at low cutting forces, while maintaining close tolerances with no deviations.
• The HP style chipbreaker, combined with built-in wipers, yields excellent surface quality and good chip control.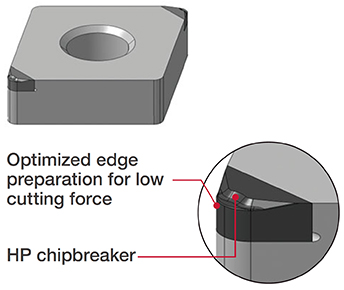 2. Chip control is stable for a long time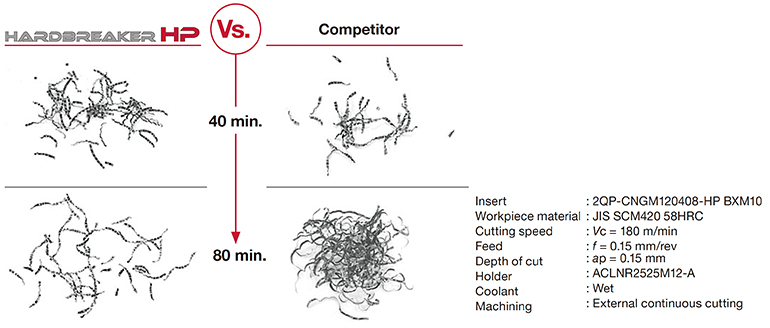 Inserts & Grades
Practical examples
Part:
CVJ part
Material:
SCR420(JIS) (60HRC)
Toolholder:
ACLNR2525M12-A
Insert:
2QP-CNGM120408-HP
Grade:
BXM10
Cutting conditions:
Vc = 250 (m/min) 

(820 sfm)


f = 0.20 (mm/rev) 

(.08 ipr)


ap = 0.20 (mm) (.08″)
Application: External turning & facing
Coolant: Wet
Machine: NC lathe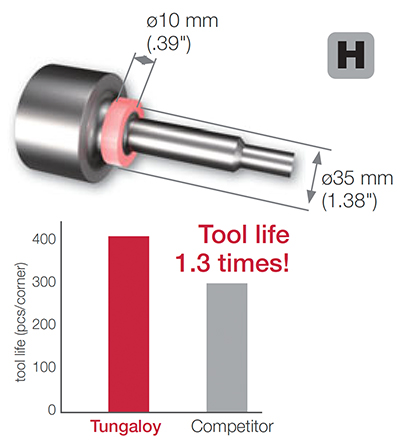 Part:
Shaft
Material:
SCM420(JIS) (59HRC)
Toolholder:
SDJCR2525M11
Insert:
2QP-DCGT11T304-HP
Grade:
BXM10
Cutting conditions:
Vc = 120 (m/min) 

(394 sfm)


f = 0.05 (mm/rev) 

(.002 ipr)


ap = 0.20 (mm) (.08″)
Application: External turning
Coolant: Wet
Machine: NC lathe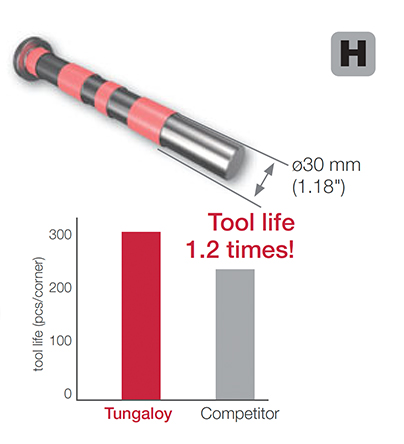 Part:
Sprocket
Material:
SCM415(JIS) (55HRC)
Toolholder:
ACLNL2020K12-A
Insert:
2QP-CNGM120404WL-HP
Grade:
BXA20
Cutting conditions:
Vc = 120 (m/min) 

(394 sfm)


f = 0.05 (mm/rev) 

(.002 ipr)


ap = 0.10 (mm) (.04″)
Application: External turning
Coolant: Wet
Machine: NC lathe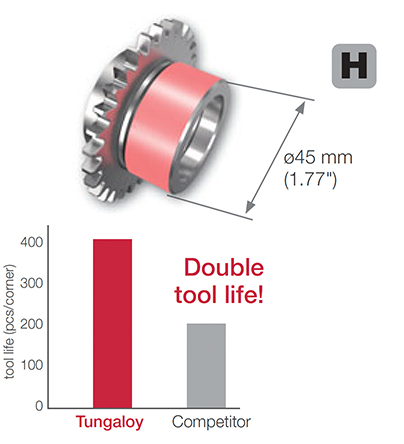 Standard cutting conditions
For more information about this product, visit our online e-catalog or download the product report:
PDF
Imperial
Main product report_No. 518-US
BACK