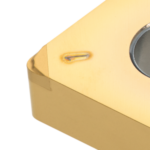 CBN inserts with integrated chipbreaker for improved hard turning productivity
CBN inserts with chipbreaker ideal for carburized layer removal and finishing hardened steel
Applications & Features

HS chipbreaker
Optimized chipbreaker design for excellent chip control during hard turning at aggressive conditions
Designed for high feed machining.
Provides excellent chip control for a wide range of D.O.C. and feed rates.
Edge preparation is designed to prevent catastrophic failure.
HP chipbreaker
Designed for finish machining of hardened parts with close tolerances
Optimized chipbreaker geometry significantly reduces cutting force imposed on the cutting edge, ensuring long tool life.
The edge preparation is designed to generate low cutting force, providing chatter-free machining and close tolerances.
The built-in wiper yields excellent surface quality and good chip control.
HF and HM chipbreakers
Suited for hard turning applications requiring great D.O.C. such as carburized layer removal.
Effective chip breaking is possible for a wide range of hard materials.
BXA20 and BXM20 CBN grade inserts are available for aggressive cutting depths.
Inserts & Grades

HM chipbreaker
Suited for hard turning applications requiring great D.O.C. such as carburized layer removal
LEARN MORE
Practical examples
Part:
Road roller (heavy equipment)
Material:
S45C / C45 (58HRC)
Insert:
3QP-TNGM160408-HS
Grade:
BXM20
Cutting conditions:
Vc = 180 (m/min)
f = 0.15 (mm/rev)
ap = 0.25 (mm)
Coolant: Wet

Part:
Input shaft
Material:
SCM420 / 18CrMo4 (58 – 60HRC)
Insert:
2QP-CNGM120408-HS
Grade:
BXM10
Cutting conditions:
Vc = 113 – 238 (m/min)
f = 0.17 (mm/rev)
ap = 0.25 (mm)
Coolant: Wet

Part:
Bevel gear
Material:
SCM420 / 18CrMo4 (58HRC)
Insert:
2QP-CNGM120408-HP
Grade:
BXA20
Cutting conditions:
Vc = 160 (m/min)
f = 0.1 (mm/rev)
ap = 0.15 (mm)
Coolant: Wet

Standard cutting conditions
ISO
Chipbreaker
Grade
Work condition
Cutting speed
Vc (m/min)
Depth of cut
ap (mm)
Feed
f (mm/rev)
HP
BXA10
Continuous
120 – 350
0.03 – 0.22
0.03 – 0.25
HP
BXM10
Continuous
120 – 350
0.03 – 0.22
0.03 – 0.25
HP
BXA20
Light interrupted
70 – 180
0.03 – 0.22
0.03 – 0.25
HS
BXA10
Continuous
120 – 350
0.1 – 0.35
0.05 – 0.3
HS
BXA20
Light interrupted
70 – 180
0.1 – 0.35
0.05 – 0.3
HF
BXM20
Removing of
carburized layer
70 – 180
0.3 – 0.8
0.05 – 0.3
HM
BXA20
Removing of
carburized layer
70 – 180
0.5 – 1
0.05 – 0.3
HM
BXM20
Removing of
carburized layer
70 – 180
0.5 – 1
0.05 – 0.3
For more information about this product, visit our online e-catalog or download the product report:
BACK