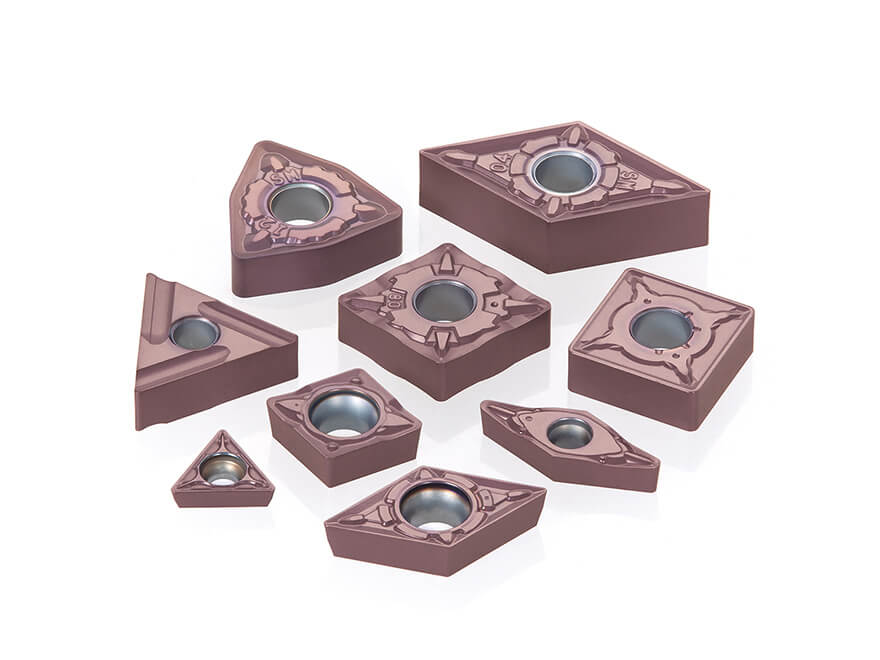 Turning Austenitic stainless steel hold a great deal of challenges, including Built-Up-Edge, inaccurate dimensions, scratches on the surface and unpredictable tool life. Tungaloy, as a market leader in metalworking, has been seeking an ultimate solution to resolve these issues.
Tungaloy recently launched a revolutionised grade AH6225, which is undoubtably the best carbide grade in the market for turning Austenitic stainless steel. AH6225 combines specially designed Tungsten Carbide substrate with advanced PVD high Ti-content nano multilayered coating technology.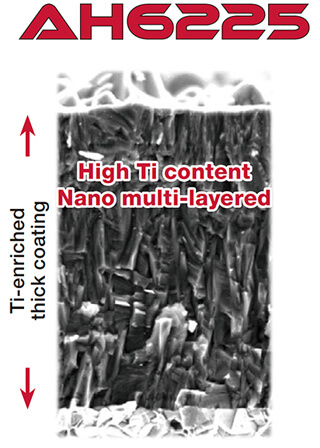 Versatile PVD-coated grade
Ti-enriched coating
– Thick Ti-enriched PVD coating for enhanced thermal shock resistance
– Reduced crater wear
High Ti-content nano-structured multilayer coating
The outer layer consists of a high Ti-content nano-structured multilayer made possible by Tungaloy's latest coating technology. Its high hardness and nano structure provides the grade with a good balance of wear and fracture resistance, enhancing tool life and predictability.
Dedicated carbide substrate
Thanks to high thermal conductivity of the substrate, heat generated during machining is dissipated, efficiently reducing temperature on the cutting edge. This provides edge toughness, while reducing plastic deformation of the cutting edge. Ideal for continuous cuts.
The engineeringly designed substrate provides resistance to plastic deformation that could impact the cutting edge and an advanced PVD coating technology that protects the cutting edge and ensures long and predictable tool life due to its high hardness and superior fracture and wear resistance. With all these powerful features, Tungaloy's grade AH6225 is also available with a vast range of uniquely designed chip breakers, superimposed on negative and positive type geometries, pressed together and honed using a unique edge preparation technology owned by Tungaloy that makes these turning inserts super special.
Due to its high fracture and deformation resistance, the cutting edge is perfectly capable to sustain interrupted cuts, as well as continuous cuts, but most importantly eliminates turning inconsistencies that could potentially cause Built-Up-Edge formation.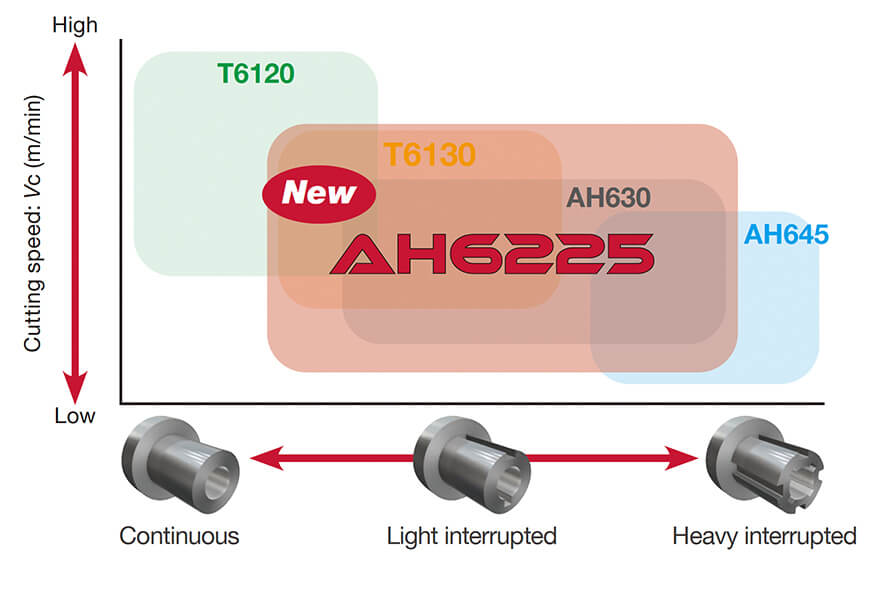 Why machining austenitic stainless steel is so difficult?
What makes the process of machining stainless steel parts so difficult is the alloy composition of the workpiece material that normally exhibits high strength and good plasticity. Therefore, during the machining process an excessive amount of heat is generated around the vicinity of the cut and dissipated into the workpiece material. The result is a work hardening effect which ultimately makes the workpiece much harder, and what we see is a rapidly faster tool wear which develops along the cutting edge.
Breaking the chip when machining austenitic stainless steel is so important
A chip breaking mechanism is super important especially while machining Stainless steel due to the nature of the workpiece material ductility. When machining stainless steel, it is complicated to bend, deflect and finally break the newly formed chip. The difficulty of breaking the chip imposes other concerns, some of them related to damaging the fresh surface of the part that was just machined, and by that affecting the product quality, and others are more focused on preventing the swirls of removed metal from clogging the cavity space inside the CNC lathe machine.
Outstanding performances leads to higher productivity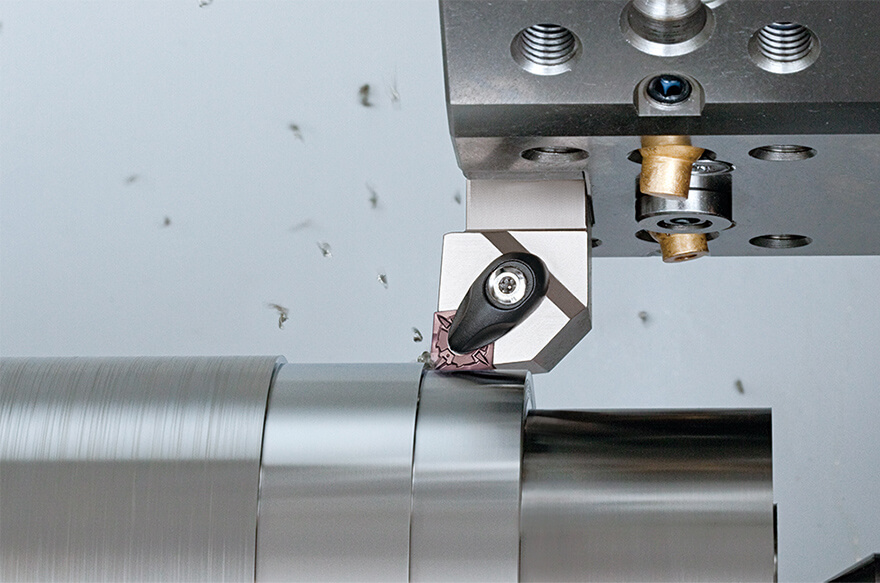 The outstanding combination of specially designed substrate and advanced PVD coating, along with vast geometries and parameters such as large selection of chip breakers, corner radiuses and positive and negative rake angles, makes Tungaloy's grade AH6225 the perfect solution for turning stainless steel parts.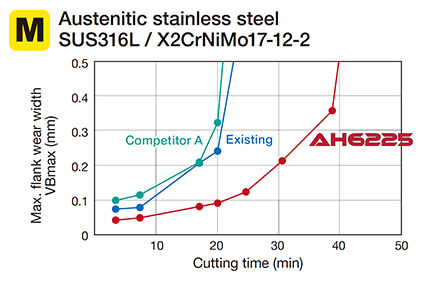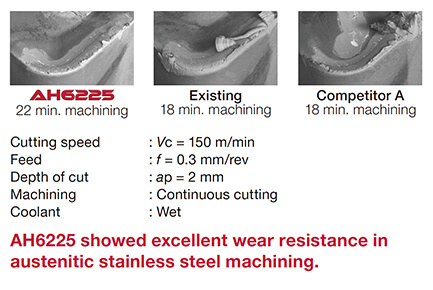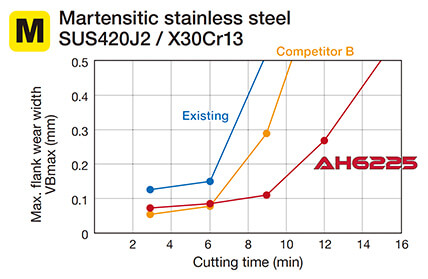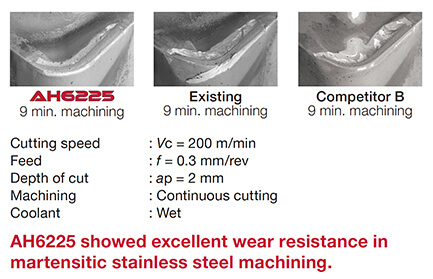 When turning stainless steel parts with AH6225 grade, the smooth reliable machining operation with predictable surface finish and tool life, not only makes the job more manageable and reliable, but also increase productivity beyond expectation, allowing the tool to operate at a versatile range of operations, including interrupted and continuous cut at high feed rates and cutting speed of 100-150 meters per minute.
The journey to remove any machining barriers or issues of inconsistency related to turning Austenitic stainless steel parts always starts by contacting one of the local representative experts of Tungaloy in your country. With such a large selection of metalworking solutions such as geometries, clamping mechanism, positive/negative geometries and chip breakers all designed by Tungaloy's engineers, one of Tungaloy's experts could certainly find the best match that will ensure an optimal solution to your needs.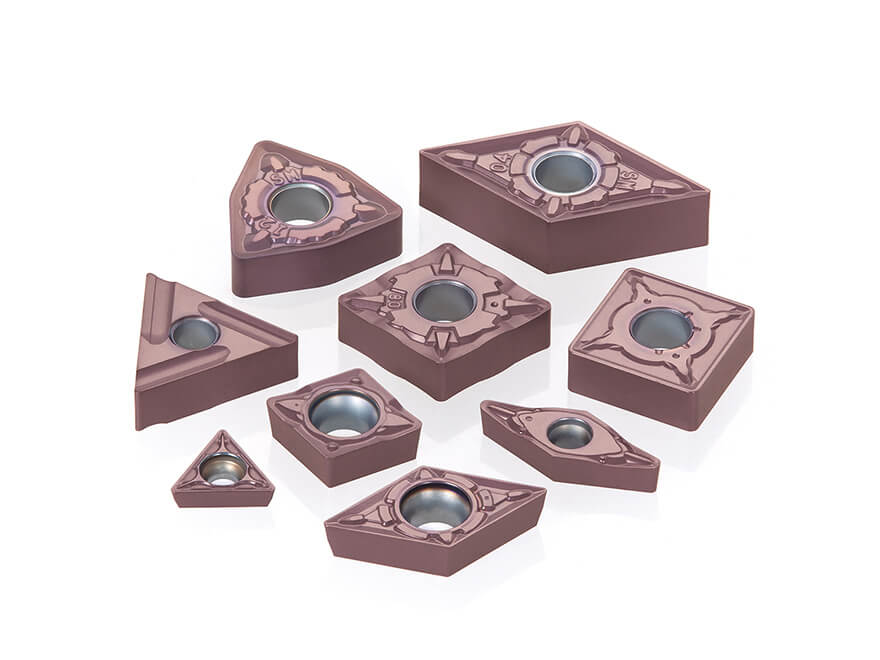 Turn Line grade
AH6225
AH6225 is our new versatile solution for all your challenges in stainless steel machining!
To learn more