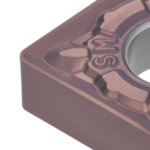 A new versatile solution for your challenges in stainless steel machining
PVD grade for stainless steel turning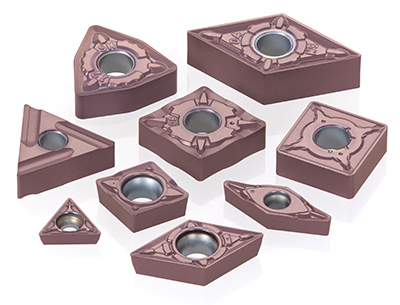 Applications & Features
Versatile PVD-coated grade
Ti-enriched coating
– Thick Ti-enriched PVD coating for enhanced thermal shock resistance
– Reduced crater wear
High Ti-content nano-structured multilayer coating
The outer layer consists of a high Ti-content nano-structured multilayer made possible by Tungaloy's latest coating technology. Its high hardness and nano structure provides the grade with a good balance of wear and fracture resistance, enhancing tool life and predictability.
Dedicated carbide substrate
Thanks to high thermal conductivity of the substrate, heat generated during machining is dissipated, efficiently reducing temperature on the cutting edge. This provides edge toughness, while reducing plastic deformation of the cutting edge. Ideal for continuous cuts.
Grades
Practical examples
Part:
Joint part
Material:
SUS304 / X5CrNi18-9
Insert:
CNMG120404-SM
Grade:
AH6225
Cutting conditions:
Vc = 80(m/min)
f = 0.1 (mm/rev)
ap = 1.0 (mm)
Application: External turning
Coolant: Wet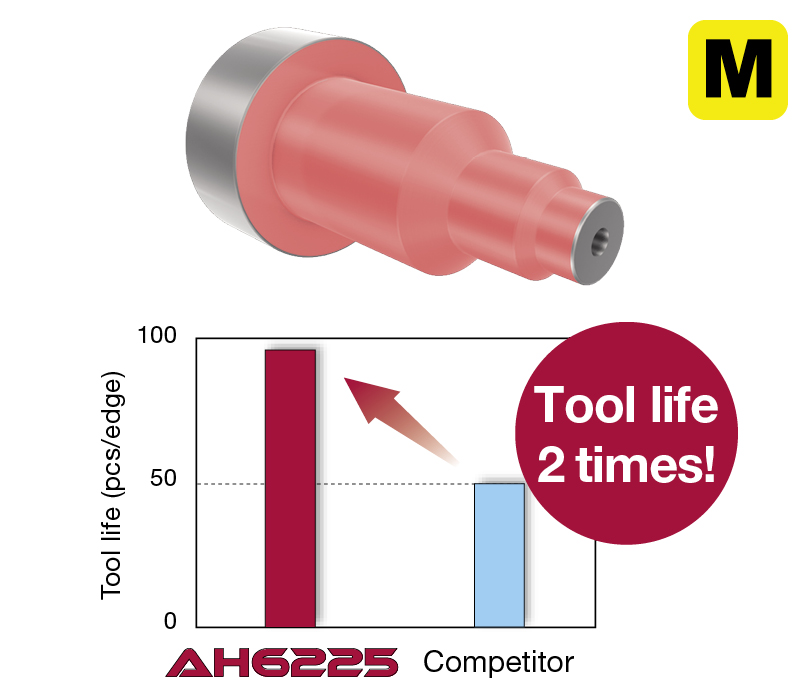 Part:
Machine part
Material:
SUS440 (Martensite stainless steel)
Insert:
VNMG160404-SF
Grade:
AH6225
Cutting conditions:
Vc = 100 (m/min)
f = 0.1 (mm/rev)
ap = 0.5 (mm)
Application: External turning
Coolant: Wet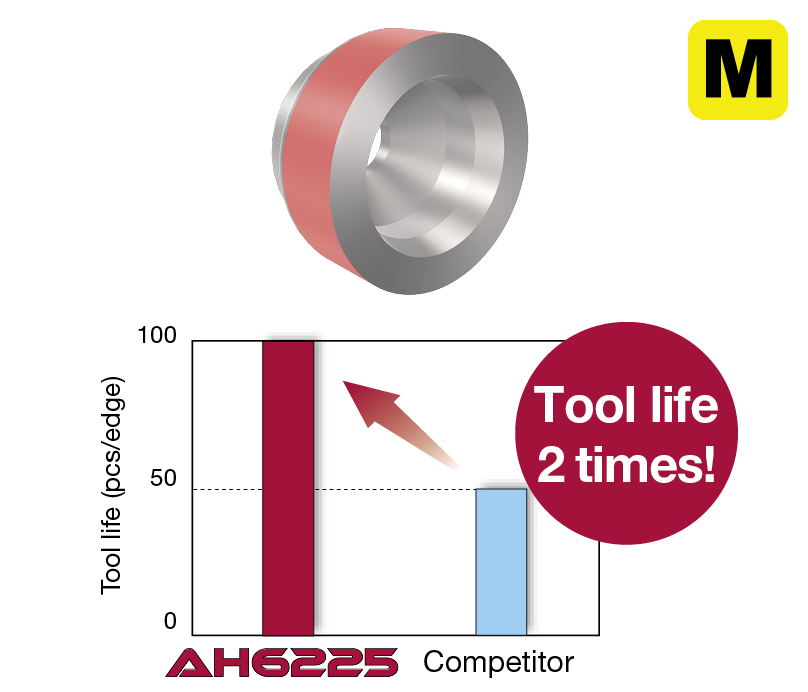 Standard cutting conditions
Negative inserts
Workpiece material
Grade
Chipbreaker
Cutting speed
Depth of cut
Feed
Vc (m/min)
ap (mm)
f (mm/rev)
Austenitic Austenitic
stainless steel
AH6225
SF
90 – 200
0.5 – 2.5
0.08 – 0.45
AH6225
SM
90 – 200
1 – 4
0.2 – 0.5
AH6225
SH
90 – 200
2 – 6
0.3 – 0.6
Ferritic / martensite stainless steel
AH6225
SF
110 – 240
0.5 – 2.5
0.08 – 0.45
AH6225
SM
110 – 240
1 – 4
0.2 – 0.5
AH6225
SH
110 – 240
2 – 6
0.3 – 0.6
Precipitation hardened stainless steel
AH6225
SF
60 – 110
0.5 – 2.5
0.08 – 0.45
AH6225
SM
60 – 110
1 – 4
0.2 – 0.5
AH6225
SH
60 – 110
2 – 6
0.3 – 0.6
Positive inserts
Workpiece material
Grade
Chipbreaker
Cutting speed
Depth of cut
Feed
Vc (m/min)
ap (mm)
f (mm/rev)
Austenitic Austenitic
stainless steel
AH6225
PSS
90 – 200
0.3 – 2
0.08 – 0.3
AH6225
PS
90 – 200
0.5 – 2.5
0.08 – 0.3
AH6225
PM
90 – 200
1 – 3
0.15 – 0.3
Ferritic / martensite stainless steel
AH6225
PSS
110 – 240
0.3 – 2
0.08 – 0.3
AH6225
PS
110 – 240
0.5 – 2.5
0.08 – 0.3
AH6225
PM
110 – 240
1 – 3
0.15 – 0.3
Precipitation hardened stainless steel
AH6225
PSS
60 – 110
0.3 – 2
0.08 – 0.3
AH6225
PS
60 – 110
0.5 – 2.5
0.08 – 0.3
AH6225
PM
60 – 110
1 – 3
0.15 – 0.3
For more information about this product, visit our online e-catalog or download the product report:
BACK