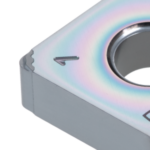 Coated CBN grade for hardened steel
Coated CBN series for a wide range of hard part turning.
The most suitable grade can be selected for your application requirements.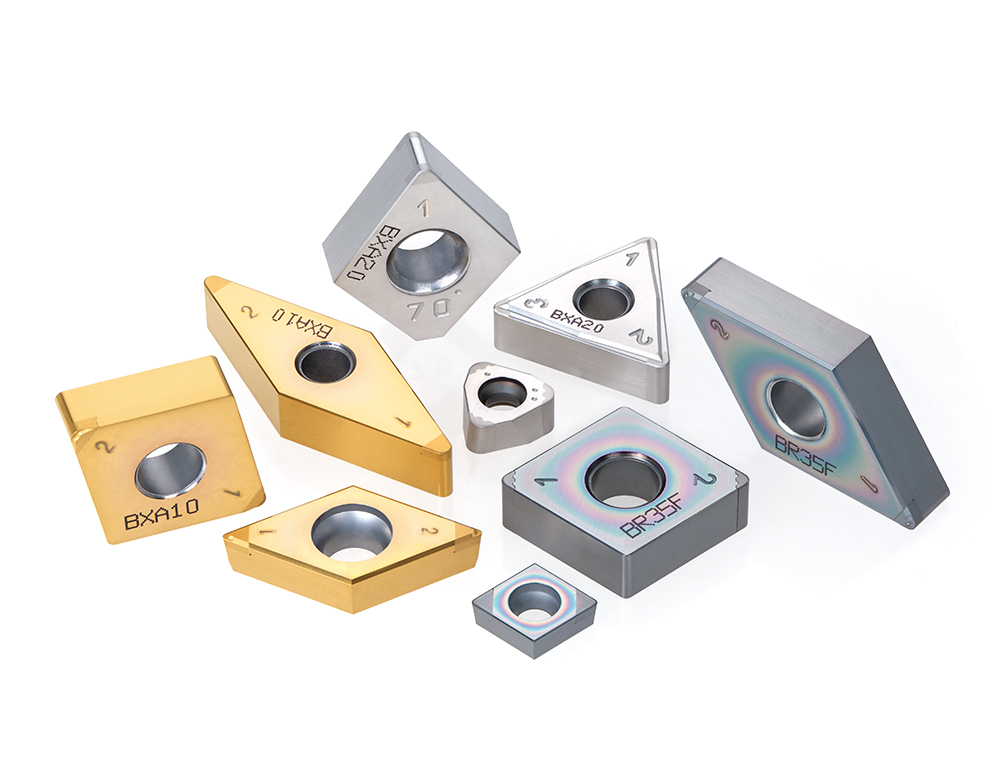 Applications & Features
1. Application area
2. Grade properties
3. WavyJoint
New brazing technology for increased machining efficiency
A maximum depth of cut up to 0.8 mm.
Reduces the number of passes to increase productivity.
Innovative WavyJoint brazing technology
Prevents the CBN tips from debrazing, eliminating abrupt insert fractures during demanding dry machining, while securing stable and predictable hard turning operations.
4. Hardbreakder Series
HS chipbreaker
Optimized chipbreaker design for excellent chip control during hard turning at aggressive conditions
HP chipbreaker
Designed for finish machining of hardened parts with close tolerances
HF and HM chipbreakers
Suited for hard turning applications requiring great D.O.C. such as carburized layer removal
5. New CBN inserts for general turning
GNGA insert with 70° corner angle
FNGA insert with 45° corner angle

Smaller corner angle provides the insert with greater clearance between the insert flank and workpiece surface, allowing better chip flow and evacuation.
Enables greater D.O.C. in face turning applications in which the insert is pulled outward (fed away from the workpiece center).

YNGA insert with 25° corner angle

Allows undercutting, V grooving, and other applications that are not possible with traditional V inserts.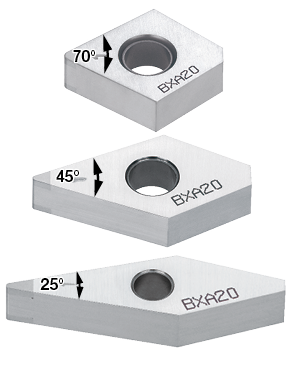 High versatility
Existing ISO turning toolholder can be used for these inserts.

For GNGA insert: Use the holder for CNxx1204 insert
For FNGA insert: Use the holder for DNxx1504 insert
For YNGA insert: Use the holder for VNxx1604 insert

No offsets needed compared to ISO inserts, due to same geometry of cutting edge position.
Double sided insert with 2 cutting edges.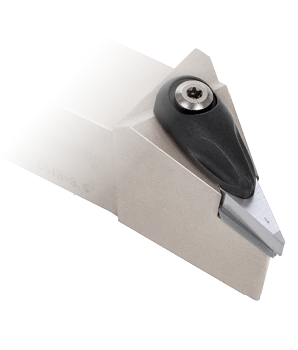 6. MiniForce-Turn Double-sided positive insert with CBN tips
MiniForce-Turn now offers WavyJoint CBN inserts that provide additional strength and security in aggressive cutting conditions.
Grades
Practical examples
Part:
Gear
Material:

SCM420 / 18CrMo4 (62HRC)

Insert:

2QP-CNGA120408

Grade:
BXA10
Cutting conditions:
Vc = 100 (m/min)
f = 0.05 (mm/rev)
ap = 0.15 (mm)
Coolant: Dry

Part:
CVT
Material:

SCr420 / 20Cr4 (59HRC)

Insert:

2QP-DNGA150412

Grade:
BXA20
Cutting conditions:
Vc = 170 (m/min)
f = 0.3 (mm/rev)
ap = 0.1 (mm)
Coolant: Wet

Part:
Gear
Material:

SCM420 / 18CrMo4 (60HRC)

Insert:

2QP-CNGA120412HC

Grade:

BR35F

Cutting conditions:
Vc = 70 (m/min)
f = 0.05 (mm/rev)
ap = 0.15 (mm)
Coolant: Dry

Standard cutting conditions
ISO
Grade
Workpiece condition
Cutting speed
Vc (m/min)
Depth of cut
ap (mm)
Feed
f (mm/rev)
BXA10
Continuous
100 – 230
0.05 – 0.5
0.05 – 0.3
Light interrupted
100 – 230
0.05 – 0.3
0.05 – 0.2
BXA20
Continuous
60 – 180
0.05 – 0.5
0.05 – 0.3
Interrupted
60 – 180
0.05 – 0.3
0.05 – 0.2
BR35F
Heavy interrupted
50 – 150
0.05 – 0.3
0.05 – 0.2
For more information about this product, visit our online e-catalog or download the product report:
BACK