Iwaki, January 2020
English version below
La gamme de forets à tête interchangeable DrillMeister de Tungaloy comprend désormais de nouveaux forets de type TID à queue cylindrique qui s'adaptent à des diamètres de tête de forage allant de 10,0 mm à 19,9 mm (de 0,398 "à 0,783").
DrillMeister dispose d'une interface autobloquante unique qui se verrouille entre la tête de forage et le corps de tige pour un échange d'outils simple et rapide. Les opérateurs peuvent remplacer la tête de forage sans avoir à retirer le corps de forage de l'adaptateur ou à mesurer à nouveau les valeurs de décalage d'outil, ce qui permet de gagner du temps.
La tête de forage peut être facilement assemblée tout en restant sur la machine. Le corps du foret comprend de solides cannelures hélicoïdales avec des surfaces polies pour une évacuation fiable des copeaux. Cette caractéristique est particulièrement importante dans les applications de forage de trous profonds où une évacuation en douceur des copeaux est vitale.
Les nouveaux forets TID sont proposés avec une tige cylindrique. Une tige cylindrique rectifiée avec précision sans méplats offre une précision de faux-rond étroite et une transmission de couple élevée lorsqu'elle est serrée avec un contact de surface complet dans un mandrin à pince de serrage de haute précision, un mandrin de fraisage ou un porte-mandrin hydraulique.
De plus, tous les nouveaux forets ont des longueurs de tige (LS) plus longues que les lignes de forage TID existantes. Les tiges plus longues permettent un ajustement plus flexible de la longueur du porte-à-faux du foret lors du serrage dans le support.
Les opérations de perçage nécessitent souvent des forets dont la longueur de la cannelure est bien plus longue que la profondeur du trou à usiner, juste pour éviter un montage ou une interférence structurelle. Le nouveau foret TID peut fournir un porte-à-faux de foret étendu en déplaçant la position de serrage de la tige dans le support, tout en conservant une longueur de cannelure minimale nécessaire pour une évacuation en douceur des copeaux et la stabilité de l'outil.
Amélioré avec la nouvelle ligne de forage, DrillMeister offre à ses utilisateurs une productivité élevée, une réduction des stocks d'outils et une élimination des coûts de réaffûtage.
En résumé:
Les diamètres de foret disponibles varient de 10,0 mm à 19,9 mm (de 0,398 "à 0,783") par incréments de 0,1 mm (.004 ") dans des corps de longueur 3,5xD-, 6xD- et 8xD
Des flûtes hélicoïdales solides avec une surface polie assurent une évacuation en douceur des copeaux
L'interface autobloquante unique permet un changement d'outil simple et rapide
La conception de serrage avec un réceptacle résistant à la fatigue sur le corps du foret permet un nombre accru de changements de tête de forage
Les arêtes de coupe marginales offrent des tolérances de trou rapprochées équivalentes à celles des forets en carbure monobloc
Disponible avec des queues cylindriques plus adaptées à une utilisation avec des mandrins à pinces de haute précision, des mandrins de fraisage et des porte-mandrins hydrauliques
Les longues longueurs de tige permettent l'extension du porte-à-faux du foret tout en conservant la longueur de cannelure minimale
>> Télécharger le communiqué de presse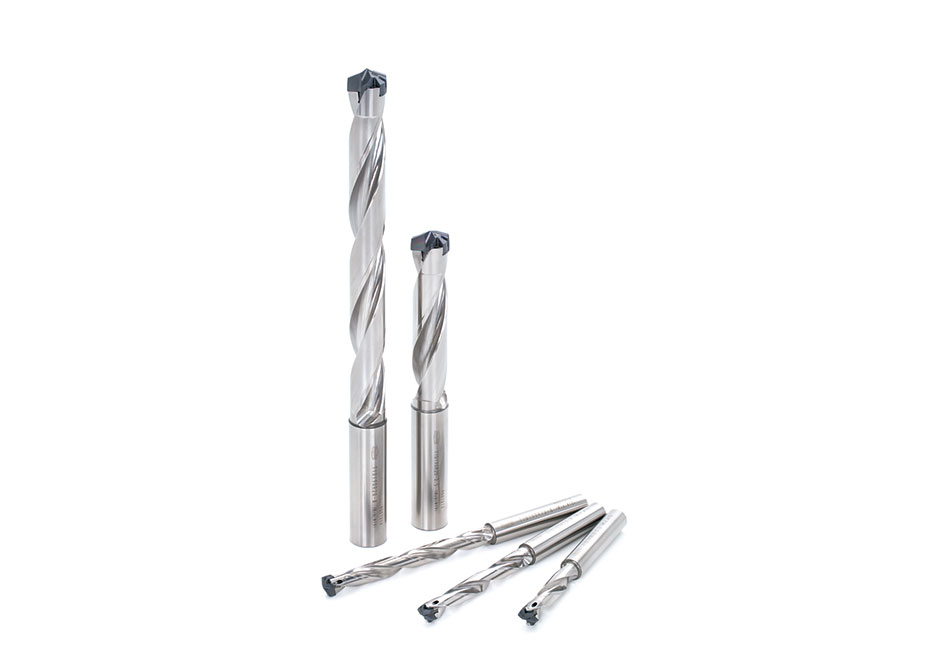 — Tungaloy's DrillMeister exchangeable-head drill line now includes new TID type drills in cylindrical shanks that accommodate drill head diameters ranging from 10.0 mm to 19.9 mm (from .398″ to .783″).
DrillMeister features a unique self-locking interface that interlocks between the drill head and shank body, enabling a simple and quick tool exchange. Operators can replace the drill head without having to remove the drill body from the adapter or re-measure tool offset vales, thus saving time. The drill head can be easily assembled while remaining on the machine. The drill body incorporates strong helical flutes with polished surfaces for reliable chip evacuation. This feature is especially important in deep hole drilling applications where smooth chip evacuation is vital.
The new TID drills are offered with a cylindrical shank. A precision-ground cylindrical shank with no flats provides a close runout accuracy and high torque transmission when clamped with a full surface contact in a high-precision collet chuck, milling chuck, or hydro-chuck holder.
In addition, all the new drills have longer shank lengths (LS) than the existing TID drill lines. Longer shanks enable more flexible adjustment of a drill overhang length when being clamped in the holder.
Hole making operations often require drills with a flute length that is way longer than the hole depth to be machined, just to avoid a fixture or structural interference. The new TID drill can provide an extended drill overhang by shifting out the shank clamping position in the holder, while retaining a minimum flute length necessary for smooth chip evacuation and tool stability.
Enhanced with the new drill line, DrillMeister provides customers with high productivity, reduced of tool inventory and elimination of regrinding costs.
At a Glance

Available drill diameters range from 10.0 mm to 19.9 mm (from .398″ to .783″) in increments of 0.1 mm (.004″) in 3.5xD-, 6xD-, and 8xD-length bodies
Strong helical-flutes with a polished surface ensures smooth chip evacuation
Unique self-locking interface enables a simple and quick tool changeover
Clamping design with a fatigue-resistant receptacle on the drill body allows increased number of drill head changes
Margined cutting edges provide close hole tolerances equivalent to those of solid carbide drills
No reconditioning is needed – leading to reduced tool inventory and management, as well as elimination of regrinding costs
Available with cylindrical shanks most suited for use with high-precision collet chucks, milling chucks, and hydro-chuck holders
Long shank lengths enable the extension of drill overhang while retaining the minimum flute length

Total of 45 drill bodies to be added