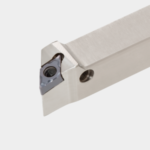 Economical double-sided positive insert
Innovative geometry and seat interface ensures stability and high performance
Applications & Features
1. Economical double-sided positive insert
WXGU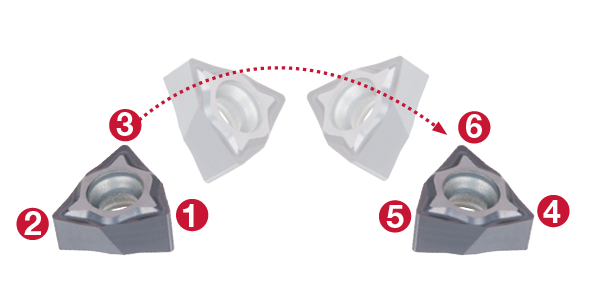 DXGU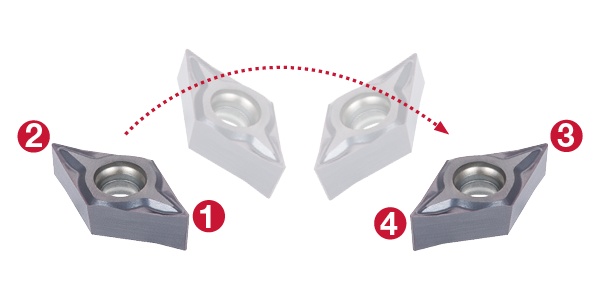 VXGU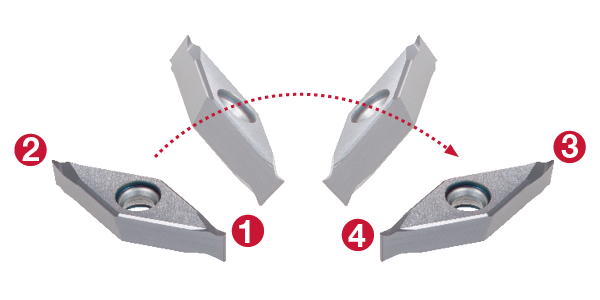 CXMU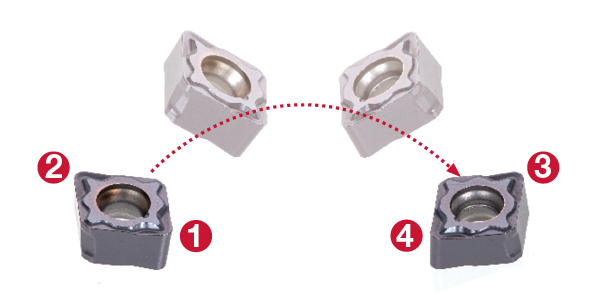 DXMU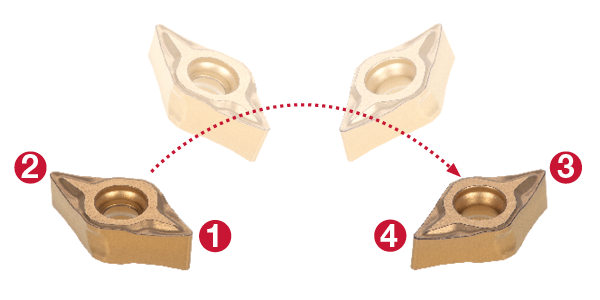 2. Toolholders

3. Light cutting chipbreaker
JS chipbreaker – features and benefits

Provides excellent chip control in a wide range of applications.
A large inclination angle on the cutting edge ensures free cutting.
Excellent cutting edge integrity for smooth surface finishing.
Note: Due to chipbreaker profile, max ap for face or ID turning is 1 mm.

Inserts & Grades
Toolholders
Practical examples
Miniature / Electronic Industry
Part:
Shaft
Material:
SUS316 / X5CrNiMo17-12-3
Toolholder:
JSDJ2XR1212X07
Insert:
DXGU070301MFL-JS
Grade:
SH725
Cutting conditions:
Vc = 61 (m/min)
f = 0.02 (mm/rev)
ap = 0.12 (mm)
Application: External turning
Coolant: Wet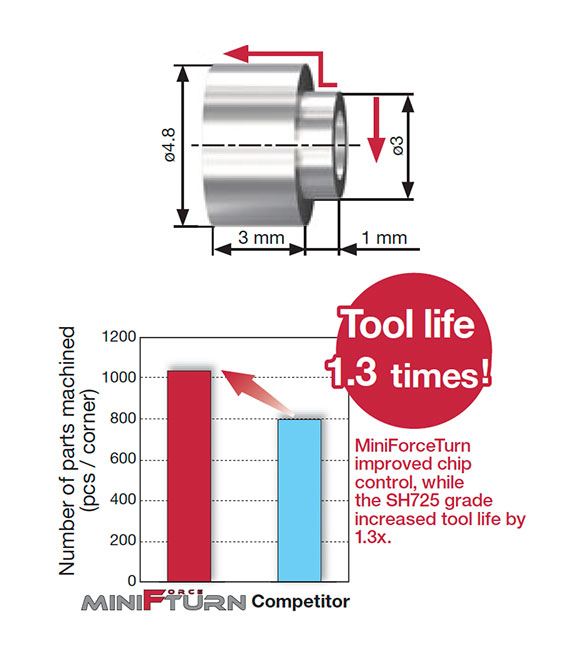 Miniature / Electronic Industry
Part:
Shaft
Material:
S45C /C45
Toolholder:
JSWL2XR1212X04
Insert:
WXGU040302L-TS
Grade:
AH725
Cutting conditions:
Vc = 66 – 80 (m/min)
f = 0.15 (mm/rev)
ap = 0.6 (mm)
Application: External turning
Coolant: Wet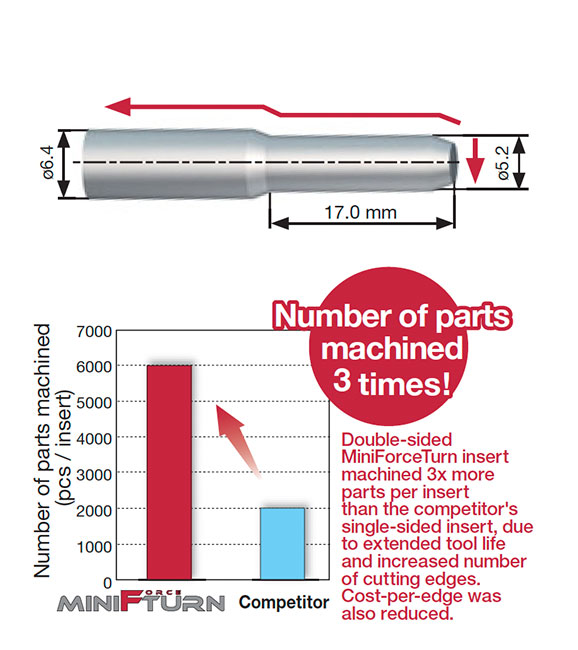 Part:
Shaft
Material:
Alloy steels
Toolholder:
JSDJ2XR1212X07
Insert:
DXGU070301ML-JSS
Grade:
AH725
Cutting conditions:
Vc = 66 – 80 (m/min)
f = 0.15 (mm/rev)
ap = 0.6 (mm)
Application: External turning
Coolant: Wet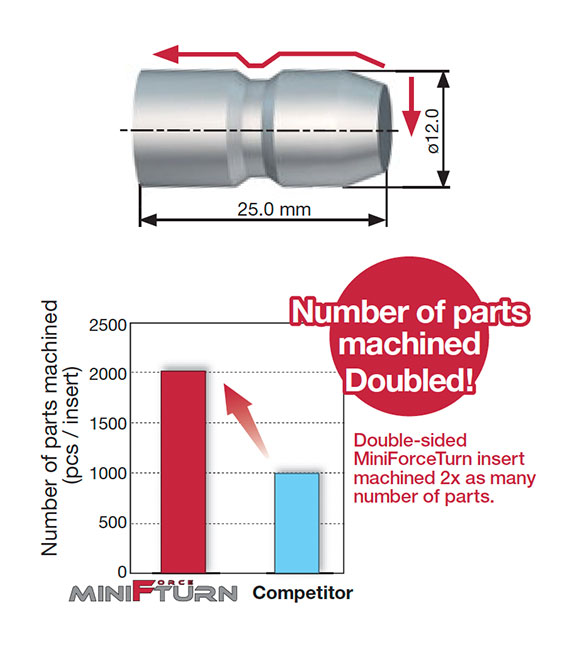 Standard cutting conditions
For external turning
Applications
ISO
Workpiece material
Priority
Chip-
breaker
Grade
Cutting
speedspeed
Vc (m/min)
Depth of cut
ap (mm)
FeedFeed
f (mm/rev)
For swiss type automatic lathes
Low carbon steel
SS400, etc. E275A, etc.SS400, etc. E275A, etc.
Carbon steel S45C, etc. C45, etc.Carbon steel S45C, etc. C45, etc.
Low alloy steel SCM415, etc. 18CrMo4, etc.Low alloy steel SCM415, etc. 18CrMo4, etc.
Alloy steel SCM440, etc. 42CrMo4, etc.
First choice
JS
SH725
50 – 180
0.1 – 3
0.03 – 0.1
With high sharpness
JSS
SH725
50 – 180
0.1 – 1.5
0.03 – 0.1
Stainless steel (Austenitic)
SUS304, etc. X5CrNi18-9, etc.SUS304, etc. X5CrNi18-9, etc.
Stainless steel (Martensitic and ferritic) SUS430, etc. X6Cr17, etc.Stainless steel (Martensitic and ferritic) SUS430, etc. X6Cr17, etc.
Stainless steel (Precipitation hardened)SUS630, etc. X5CrNiCuNb16-4, etc.
First choice
JS
SH725
50 – 180
0.1 – 1.25
0.03 – 0.1
With high sharpness
JSS
SH725
50 – 180
0.1 – 1.5
0.03 – 0.1
For small size CNC lathes
Low carbon steel
SS400, etc. E275A, etc.SS400, etc. E275A, etc.
Carbon steel S45C, etc. C45, etc.Carbon steel S45C, etc. C45, etc.
Low alloy steel SCM415, etc. 18CrMo4, etc.Low alloy steel SCM415, etc. 18CrMo4, etc.
Alloy steel SCM440, etc. 42CrMo4, etc.
First choice
SS
AH725
50 – 180
0.15 – 1.5
0.05 – 0.2
TS
AH725
50 – 180
0.3 – 2
0.08 – 0.3
For improved surface finish
SS
NS9530
50 – 200
0.15 – 1.5
0.05 – 0.2
TS
NS9530
50 – 200
0.3 – 2
0.08 – 0.3
For wear resistance
SS
GT9530
50 – 250
0.15 – 1.5
0.05 – 0.2
TS
GT9530
50 – 250
0.3 – 2
0.08 – 0.3
Stainless steel (Austenitic)
SUS304, etc. X5CrNi18-9, etc.SUS304, etc. X5CrNi18-9, etc.
Stainless steel (Martensitic and ferritic)SUS430, etc. X6Cr17, etc.Stainless steel (Martensitic and ferritic)SUS430, etc. X6Cr17, etc.
Stainless steel (Precipitation hardened)SUS630, etc. X5CrNiCuNb16-4, etc.
First choice
SS
AH725
50 – 150
0.15 – 1.5
0.05 – 0.2
For impact resistance
TS
AH725
50 – 150
0.3 – 2
0.08 – 0.3
For internal turning
ISO
Workpiece material
Grade
Cutting speed
Vc (m/min)
Depth of cut
ap (mm)
Feed
f (mm/rev)
First choice
Second choice
Low carbon steel / Low alloy steel
T9215
–
120 – 350
0.3 – 2
0.08 – 0.3
T9225
–
100 – 300
0.3 – 2
0.08 – 0.3
AH8015
–
50 – 200
0.3 – 2
0.08 – 0.3
–
AH725
50 – 180
0.3 – 2
0.08 – 0.3
–
NS9530
80 – 250
0.3 – 2
0.08 – 0.3
–
GT9530
80 – 300
0.3 – 2
0.08 – 0.3
Carbon steel / Alloy steel
T9215
–
80 – 350
0.3 – 2
0.08 – 0.3
T9225
–
80 – 300
0.3 – 2
0.08 – 0.3
AH8015
–
50 – 200
0.3 – 2
0.08 – 0.3
–
AH725
50 – 180
0.3 – 2
0.08 – 0.3
–
NS9530
80 – 250
0.3 – 2
0.08 – 0.3
–
GT9530
80 – 300
0.3 – 2
0.08 – 0.3
Stainless steel (Austenitic)
AH8015
–
50 – 150
0.3 – 2
0.08 – 0.3
–
AH725
50 – 150
0.3 – 2
0.08 – 0.3
–
T9215
50 – 200
0.3 – 2
0.08 – 0.3
Stainless steel (Martensitic and ferritic)
AH8015
–
50 – 150
0.3 – 2
0.08 – 0.3
–
AH725
50 – 150
0.3 – 2
0.08 – 0.3
–
T9215
50 – 200
0.3 – 2
0.08 – 0.3
Stainless steel (Precipitation hardening)
AH8015
–
50 – 150
0.3 – 2
0.08 – 0.3
–
AH725
50 – 150
0.3 – 2
0.08 – 0.3
–
T9215
50 – 200
0.3 – 2
0.08 – 0.3
Grey cast iron
T9215
–
100 – 350
0.3 – 2
0.08 – 0.3
T9225
–
100 – 350
0.3 – 2
0.08 – 0.3
–
AH8015
50 – 200
0.3 – 2
0.08 – 0.3
–
AH725
50 – 180
0.3 – 2
0.08 – 0.3
–
NS9530
80 – 250
0.3 – 2
0.08 – 0.3
–
GT9530
80 – 300
0.3 – 2
0.08 – 0.3
Ductile cast iron
T9215
–
100 – 350
0.3 – 2
0.08 – 0.3
T9225
–
100 – 350
0.3 – 2
0.08 – 0.3
–
AH8015
50 – 200
0.3 – 2
0.08 – 0.3
–
AH725
50 – 180
0.3 – 2
0.08 – 0.3
–
NS9530
80 – 250
0.3 – 2
0.08 – 0.3
–
GT9530
80 – 300
0.3 – 2
0.08 – 0.3
Aluminum alloys
KS05F
–
100 – 300
0.3 – 2
0.08 – 0.3
Copper alloys
KS05F
–
100 – 300
0.3 – 2
0.08 – 0.3
Titanium alloys
AH8015
–
20 – 80
0.3 – 2
0.08 – 0.3
Nickel-based alloys
AH8015
–
20 – 80
0.3 – 2
0.08 – 0.3
Hardened steel
BXA20
–
50 – 220
0.12 – 0.8
0.1 – 0.3
–
BXA10
50 – 220
0.12 – 0.8
0.1 – 0.3
For more information about this product, visit our online e-catalog or download the product report:
BACK