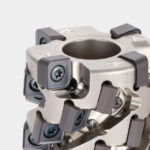 Extended-flute rough milling cutter with double-sided inserts for maximum productivity and cost efficiency
Indexable extended-flute cutters for high-efficiency rough milling operations of titanium alloy and cast iron parts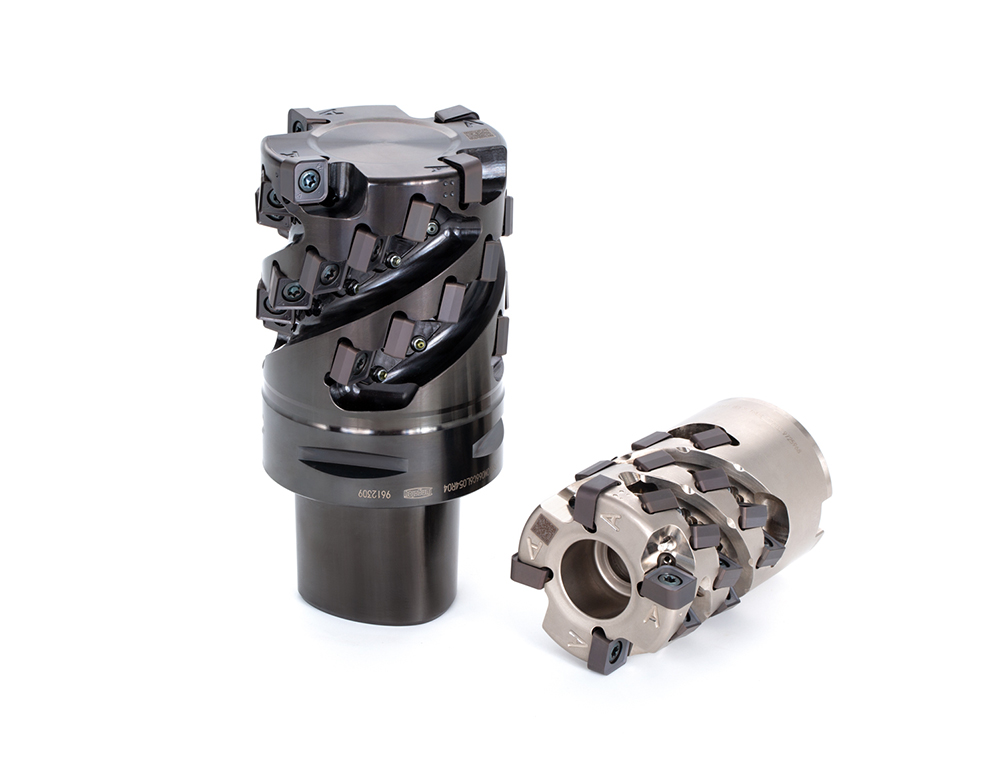 Applications & Features
Rough milling cutter optimized for machining titanium alloy parts
Titanium alloys generally exhibit excellent elastic deformation ability and low thermal conductivity. To meet
these challenges, Tungaloy has developed the insert with unique and optimal features:
A combination of sharp cutting edge and large rake angle generates lighter cutting action and reduced cutting forces.
An obtuse-angled cutting edge design ensures the cutting edge's robustness and sharpness.
The dovetail interlocking of the insert and pocket adds to tool reliability during aggressive machining.
Multiple edge double-sided inserts for maximum cost efficiency
8 total cutting edges for the peripheral insert and 4 for the bottom insert for maximum cost efficiency.

Precision coolant
Coolant jet is directed precisely to the cutting point through the fixed coolant nozzle, exerting maximum cooling effect for the cutting edge and workpiece.

Inserts & Grades
AH130

High chipping and fracture resistance
Designed for machining austenitic stainless steel under general cutting conditions
LEARN MORE
AH8015


Good balance between wear and fracture resistance
First choice for machining heat-resistant alloy under general cutting conditions
LEARN MORE
Cutter bodies

LPSX10**C
Square shoulder mill for roughing, with screw clamp system, with TungCap connection
LEARN MORE
Practical examples
Part:
Parts for aerospace
Material:
Ti-6AI-4V
Toolholder:
LPSX10U2.00B1.00L2.0R04
Insert(for bottom):
AXHU100408PER-MM
Insert(for peripheral):
SXHU100408EN-MM
Grade:
AH130
Cutting conditions:
Vc = 45.6 (m/min)
fz = 0.1 (mm/t)
Vf = 114 (mm/min)
ap = 50.8 (mm)
ae = Up to 38.1 (mm)
Application: Shoulder milling
Coolant: Internal
Machine: Vertical M/C, CAT50
Part:
Parts for aerospace
Material:
Ti-6AI-4V
Toolholder:
LPSX10U2.50B1.00L3.0R05
Insert(for bottom):
AXHU100408PER-MM
Insert(for peripheral):
SXHU100408EN-MM
Grade:
AH130
Cutting conditions:
Vc = 61 (m/min)
fz = 0.1 (mm/t)
Vf = 122 (mm/min)
ap = 14 (mm)
ae = 4.4 (mm)
Application: Shoulder milling
Coolant: Internal
Machine: Vertical M/C, CAT50
Part:
Parts for aerospace
Material:
Ti-6AI-4V
Toolholder:
LPSX10M050B22.0L054R04
Insert(for bottom):
AXHU100408PER-MM
Insert(for peripheral):
SXHU100408EN-MM
Grade:
AH130
Cutting conditions:
Vc = 47 (m/min)
fz = 0.058 (mm/t)
Vf = 70 (mm/min)
ap = 45 (mm)
ae = 6 (mm)
Application: Shoulder milling
Coolant: Internal
Machine: Vertical M/C, BT50
Standard cutting conditions
ISO
Workpiece materials
Hardness
Grades
Cutting speed
Vc (m/min)
Feed per tooth
fz (mm/t)
Grey cast iron
FC250, FC300, etc.
250, 300, etc.
150 – 250 HB
AH8015
100 – 300
0.1 – 0.25
Ductile cast iron
FCD400, FCD600, etc.
400-15S, 600-3, etc.
150 – 250 HB
AH8015
100 – 200
0.1 – 0.25
Titanium alloys
Ti-6AI-4V, etc.
–
AH130
30 – 60
0.06 – 0.2
Superalloys
Inconel 718, etc.
–
AH130
20 – 50
0.05 – 0.1
For more information about this product, visit our online e-catalog or download the product report:
BACK