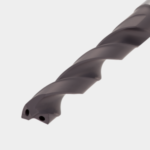 Coated solid carbide drill for excellent stability
Ideal combination of drill geometry and carbide composition for exceptional performance on a wide range of drilling applications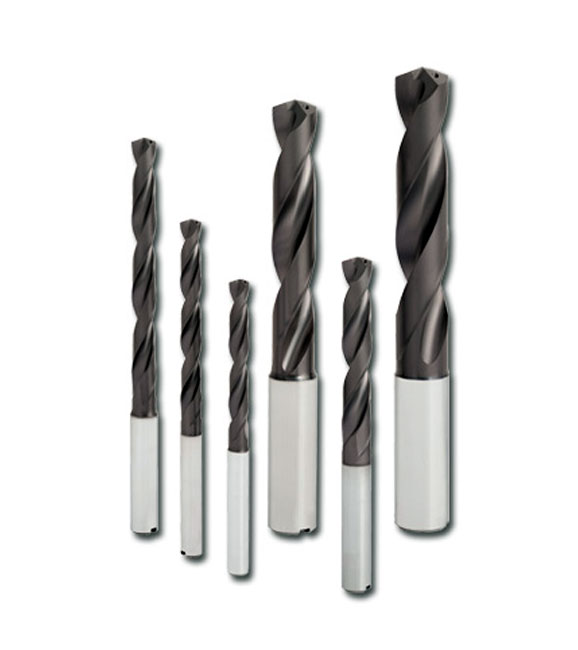 Applications & Features
1. New coated grade with highly improved wear resistance
• New coated carbide grade with a high level of versatility. Perfect grade for stable and long tool life on a wide range of materials.
2. Innovative cutting edge offers reliable drilling
• Non-conventional edge shape reduces cutting forces and improves adhesion strength of the coating to prevent sudden edge breakage.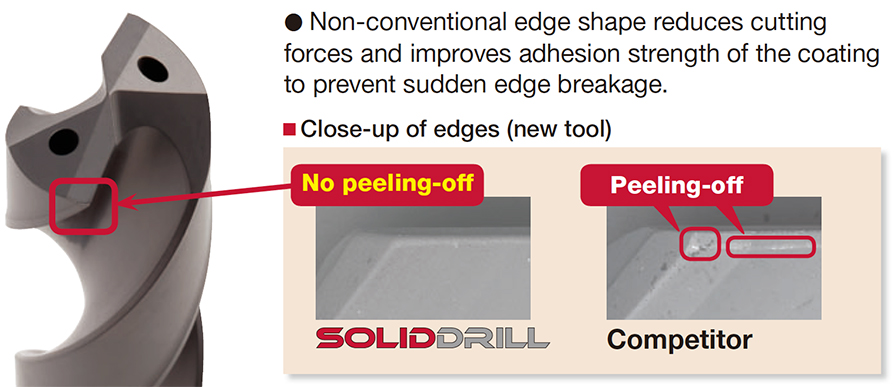 3. World-wide standard shank style – Standardized with DIN6535-Form HA
• Only 6 shank size diameters available – ø6, ø8, ø10, ø12, ø14, ø16 mm. This reduces the number of collets required.

1. Variety of dimensions and L/D
• Allows deep hole drilling up to 5 to 15 times the drill diameter.
• Available as standard items from ø0.1 to ø3.0 mm in 0.01 mm increments. Shank diameters are all unified to ø3 mm.
2. Center drills for machining guide hole
• DSM-CP140 type has a 140° point angle which can effectively prevent the cutting edge from chipping.
• DSM-CP90 type, which has a 90° point angle, can be also used for chamfering of the hole mouth.
Drill bodies & Grades
Practical examples
Part:

 

Machine parts
Material:
C55

 

(ISO)

 

Drill body:
DSW103-040-12DE3
Hole diameter:
øDc = 10.3 (mm)
Grade:
AH725
Cutting conditions:
Vc = 50 (m/min)
f = 0.3 (mm/rev)
H = 24 (mm)
Coolant: Wet (External)
Machine: Horizontal MC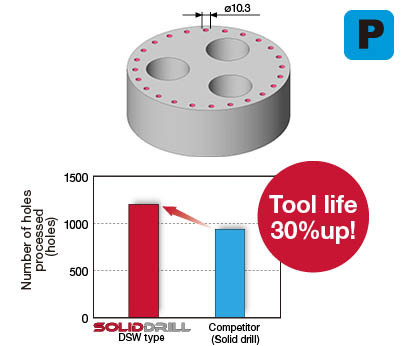 Standard cutting conditions
For more information about this product, visit our online e-catalog or download the product
report:
BACK