Today's technological advancements in various industries such as Automotive, Aerospace, Oil and Gas and Medical demand solutions for machining materials which are more heat and abrasion resistant. Such materials prolong the durability of the component but pose high level of challenges during machining. As a rule of thumb, the cutting tool needs to be at least 3 times the hardness of the material to be cut. So, for machining Hardened steel of about 700Hv, the cutting tool hardness needs to be at least 2100Hv. A general carbide cutting tool / insert has a hardness of 1500Hv making it limited to machine such hard material.
Tungaloy is one of the very few companies in the metalworking world that produce a material called Sintered CBN or Cubic Boron Nitride which has a chemical compound of Boron and Nitrogen which are pressed under extremely high pressure and temperature with other binding materials to form a material which is the second hardest substance known to mankind, after Diamond. With its hardness over 7000Hv and a very high thermal conductivity, CBN is increasingly used as an important cutting tool material for high-speed machining of Hardened steel, Sintered material, Cast Iron and Inconel.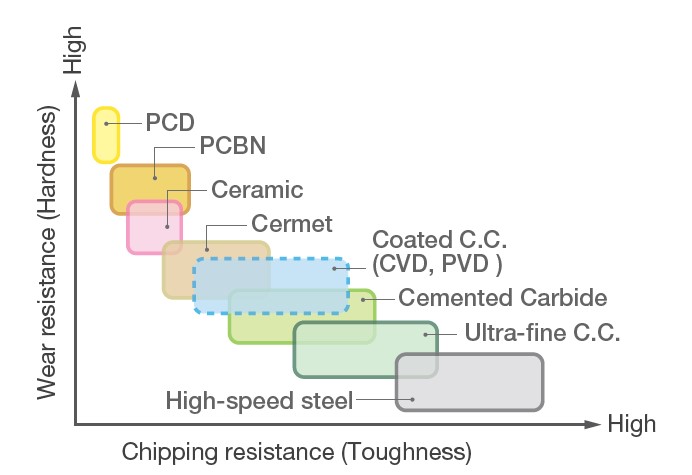 Some of the features of CBN and its benefits as a cutting tool material:
| Property | Benefits |
| --- | --- |
| High hardness, next to natural diamond | High abrasion resistance makes it a suitable tool for machining Hardened steel over 58HRc with high speed. Also suitable for Cast Iron and Sintered material applications to prolong the tool life compared to Carbide tool. |
| High temperature resistance – High thermal conductivity | It has excellent thermal conductivity, thus making it a very good tooling material for high-speed machining of Inconel 718 and other high nickel alloys. |
| High chemical inertness, even at elevated temperatures | Qualified property especially for machining ferrous and high temp alloys. |
CBN content (vol. %) plays a crucial role in the machining application. Tungaloy produces a variety of CBN grades with different CBN content from 45% to all the way up to 95%. In Hardened steel machining, higher CBN content will increase the fracture and thermal shock resistance while lower CBN content offers higher wear resistance.
There are 3 types of CBN formats which Tungaloy offers:
WavyJoint CBN – mainly for heavy interrupted cut or other high demanding applications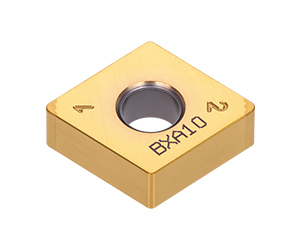 Tipped CBN – mainly for finishing applications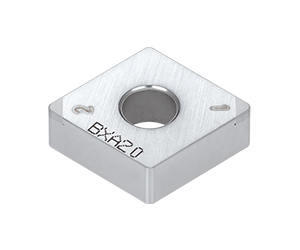 Solid CBN – Suitable for high DOC machining of Cast Iron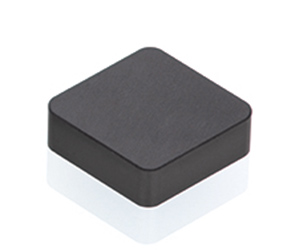 When finishing a part with lower feeds, tipped CBN inserts are sufficient. Tipped CBN are a small wafer of CBN, brazed on a Carbide base material which reduces the tool cost.
Recently Tungaloy developed a new brazing technology called WavyJoint which significantly increases the surface contact area of brazing thus allowing higher speeds, DOCs, and feeds to be applied.
Tungaloy's WavyJoint CBN:
Tungaloy's innovative and patented WavyJoint inserts have a larger CBN mass that runs from top to bottom instead of just a small tip (see picture). The serrated surface contact area of the brazing is increased by 160% which improves brazing strength. This combination allows the insert to run at higher cutting speeds, is able to withstand higher temperatures and can run at higher feed rates without the risk of edge chipping or braze damage.
Thus, the WavyJoint technology integrates higher reliability and machining capabilities.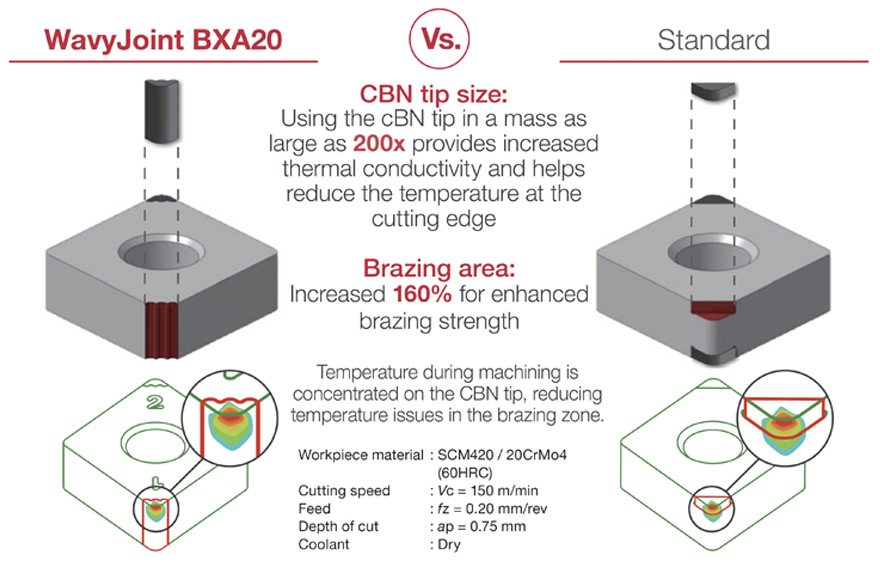 Apart from CBN content, size and brazing technology, other important aspects greatly influence the performance, such as:
Coating
Chipbreaker
Edge preparation
Tungaloy's knowledge, enriched by its constant research in coating technology has helped in developing various CBN grades.
Different sets of coated and uncoated grades are offered for different materials.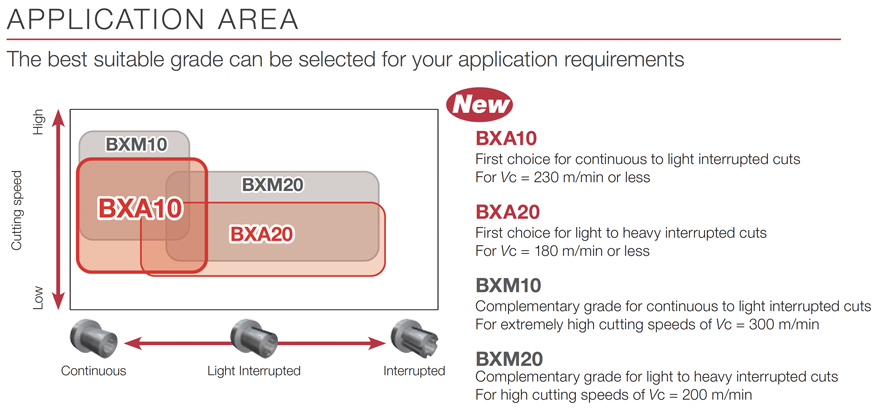 Hardened Steel machining:
Automotive power transmission parts

The newest grades added for Hardened steel machining are BXA10 and BXA20. When machining Hardened Steel, primary wear on CBN inserts is by oxidation wear. This is seen as a crater on the cutting edge. BXA10 and BXA20 has a unique combination of CBN substrate and multi-layer PVD coating to enhance the performance in such machining.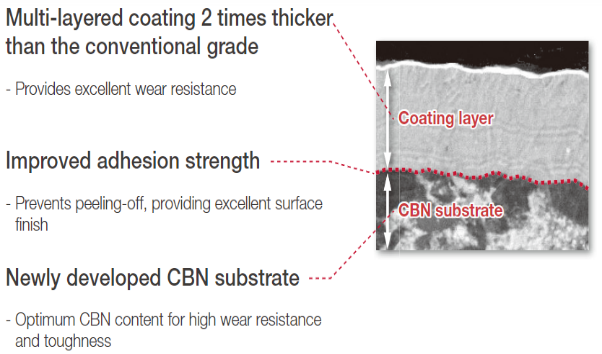 Process equipment parts and automotive Cast Iron components

Parts cast through different casting processes are different so it is important to recognize the grain growth in the material.  Tungaloy offers many grades for high-speed machining of gray and cast Irons. High hardness of CBN grades offer high resistance to abrasive wear, which is predominantly encountered while machining these materials.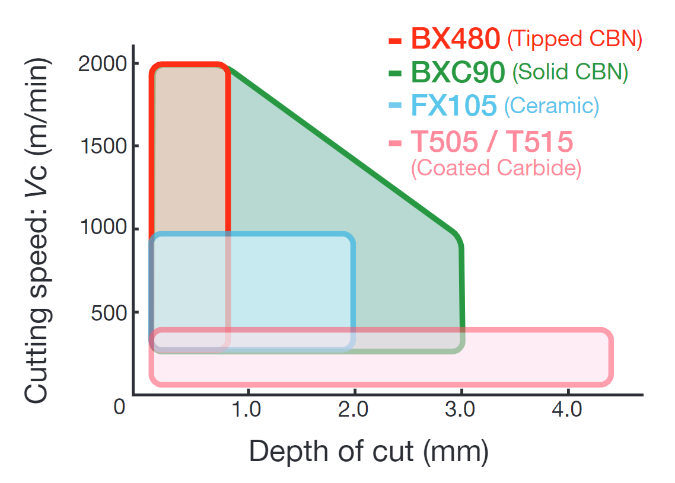 BXC90 – Solid CBN for high-speed rough turning  and milling applications for gray cast Iron
BX930 – Uncoated CBN for Nodular Iron applications
BX480 – Finishing operation of Gray Cast Iron and ideal grade for Gray Cast Iron milling.
BX910 & BX870– For centrifugal cast components like cylinder block boring and cylinder liners
Sintered material machining:

Sintered material or powder metallurgy parts are fast replacing forged components, owing to its higher homogeneity and accuracy. They are highly abrasive and need a tool material which can retain its sharpness for a longer time. Tungaloy offers High CBN content and fine grain grades like BX470 and BX480 for machining Sintered material.

Heat resistant alloy machining:

Aerospace, gas turbine and super critical steam turbine applications require use of material which are resistant to high temperatures. Similarly, process pumps working with chemicals and other corrosive are corrosion resistant or show chemical inertness. Inconel 718 is one such important material commonly used in these applications. Engine casing, rings and blades are manufactured using Inconel. Similarly, some of the Oil & Gas applications use valves manufactured from Inconel.
Tungaloy's unique grade BX815 offers superior surface finish, while machining at high cutting speeds, due to its high oxidation and heat resistance properties. High Alumina binder helps this grade in achieving these properties while well dispersed Zirconia particles offer high fracture resistance.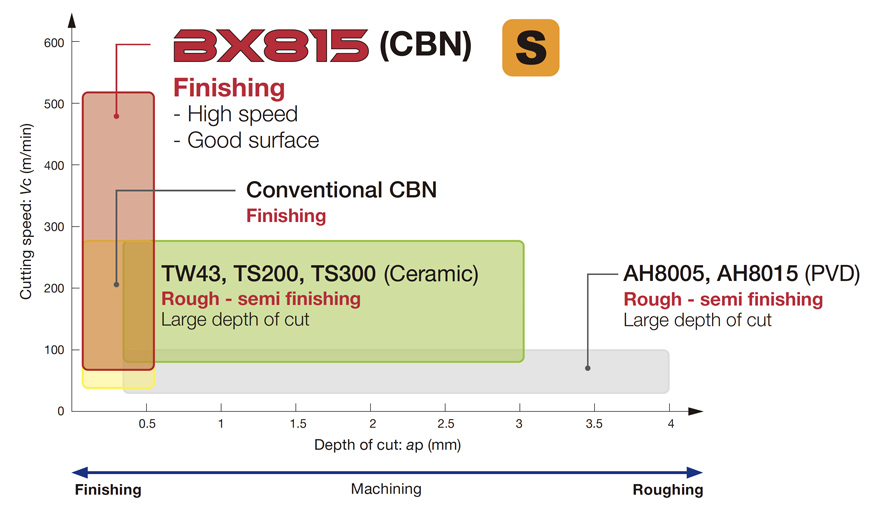 Edge preparation or the honing on the cutting edge plays a vital role in controlling the damage while machining. As explained earlier, crater wear is one of the main failures in CBN. A proper edge preparation deflects the chips appropriately and prolongs the tool life. Some of the edge preparations increase cutting force, so are suitable for interrupted cuts but not for finishing and slender parts. Tungaloy offers a wide variety of edge preparations' combination together with different coating for a complete solution for machining.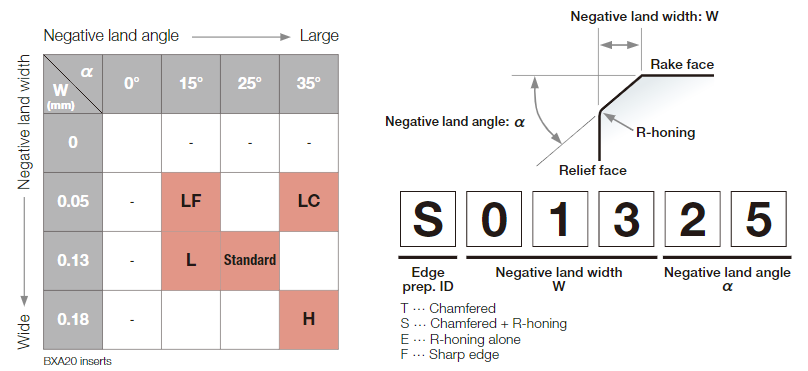 Machining Case Hardened steel parts, through Hardened steel parts and induction surface Hardened steel parts offer different challenges in terms of chip control. Tungaloy offers ground chip groove geometries such as HF, HM or laser etched geometry like HP which make chip control easier and also help in holding closer tolerance of the machined surface. All chipbreakers are available in appropriate coating per application.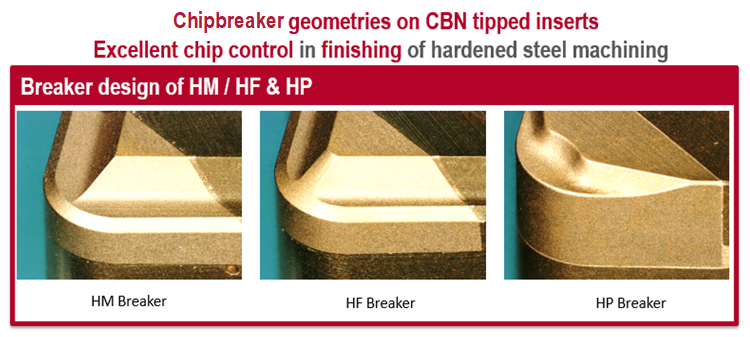 Apart from standard ISO shapes, Tungaloy offers some ingenious shapes, which offer better clearance, helping in better chip evacuation and faster heat dissipation. For example, an insert with 70° included angle instead of the 80° C-shaped insert. This additional 5° clearance in facing or OD turning help improve chip formation, and evacuation.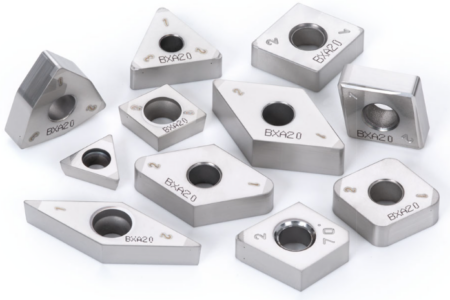 Check out and test Tungaloy's vast solutions for high-speed machining of Hardened Steel, Cast Iron, Sintered Material and Heat Resistant Alloy with our promise to continually improve our product for the best experience in the industry.
Tungaloy, as a market leader in metal working, with its unique and ingenious ideas and products will continuously strive for providing the best CBN solutions per application.