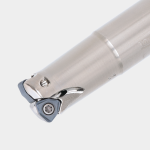 High feed milling cutters with six cutting edge inserts
Featuring robust cutter design for high productivity
Applications & Features
1. Economical double-sided inserts with six cutting edges
– 1.5 to 3 times greater number of cutting edges per insert compared with conventional high feed milling inserts.
– Reduced cost per insert when machining stainless steels and difficult materials, where inserts demonstrate rapid wear.

2. Designed for tool reliability and stability
– Robust cutting edge design forms an obtuse angle, eliminating insert fracture during machining.
– A large contact face on the insert seat provides secure insert retention.

3. Excellent ramping capability
– Longer inner cutting edge allows higher ramp-down capabilities to promote higher productivity.
– Increased max ramping angles allow productivity boosts in linear and helical ramping operations.

Inserts & Grades
AH3225


Good balance between wear and fracture resistance
Suitable for steel and stainless steel
LEARN MORE
AH8015





Good balance between wear and fracture resistance
First choice for machining heat-resistant alloy under general cutting conditions
LEARN MORE
Cutter bodies
Practical examples
Part:
Machine structural part
Material:
SS400 / E275A
Cutter:
EXWX03M020C20.0R03 (ø20 mm, z = 3)
Insert:
WXMU0303ZER-MM
Grade:
AH3225
Cutting conditions:
Vc = 180 (m/min)
fz = 0.9 (mm/t)
ap = 0.5 (mm)
ae = 20 (mm)
Application: Slotting, Shoulder milling
Coolant: Dry
Machine: Vertical M/C, BT40
Part:
Heavy equipment part
Material:
SM400 / E235A
Cutter:
EXWX03U1.00C1.00R04 (ø25.4 mm, z = 4)
Insert:
WXMU0303ZER-MM
Grade:
AH3225
Cutting conditions:
Vc = 255 (m/min)
fz = 0.28 (mm/t)
ap = 1 (mm)
ae = 25.4 (mm)
Application: Hole enlarging
Coolant: Wet
Machine: Vertical M/C, CAT40
Part:
Machine part
Material:
S45C / C45
Cutter:
EXWX03M025C25.0R04 (ø25 mm, z = 4)
Insert:
WXMU0303ZER-MM
Grade:
AH3225
Cutting conditions:
Vc = 200 (m/min)
fz = 0.3 (mm/t)
ap = 0.5 (mm)
ae = 25 (mm)
Application: Slotting, Shoulder milling
Coolant: Dry
Machine: Vertical M/C, BT40
Standard cutting conditions
ISO
Workpiece materials
Hardness
Priority
Grades
Chipbreaker
Cutting speed
Vc (m/min)
Feed per tooth
fz (mm/t)
Tool dia: DCX (mm), Number of revolution: n (min-1), Feed speed: Vf (mm/min), Max. depth of cut: APMX = 1 mm, Number of teeth: CICT
ø16, CICT = 2
ø20, CICT = 3
ø25, CICT = 4
ø32, CICT = 5
ø40, CICT = 6
ø50, CICT = 8
n
Vf
n
Vf
n
Vf
n
Vf
n
Vf
n
Vf
Low carbon steel
S15C, SS400, etc.
C15, C20, etc.
– 300HB
First choice
AH3225
MM
100 – 300
0.5 – 1.5
3,981
7,962
3,185
9,554
2,548
10,191
1,990
9,952
1,592
9,554
1,274
10,191
For wear resistance
AH8015
Vc = 200 m/min, fz = 1 mm/t
Carbon steel, Alloy steel
S55C, SCM440, etc.
C55, 42CrMoS4, etc.
– 300HB
First choice
AH3225
MM
100 – 250
0.5 – 1.5
3,981
7,962
3,185
9,554
2,548
10,191
1,990
9,952
1,592
9,554
1,274
10,191
For wear resistance
AH8015
Vc = 200 m/min, fz = 1 mm/t
Prehardened steel
NAK80, PX5, etc.
30 – 40HRC
First choice
AH3225
MM
100 – 200
0.5 – 1.2
2,986
5,971
2,389
7,166
1,911
7,643
1,493
7,464
1,194
7,166
955
7,643
For wear resistance
AH8015
Vc = 150 m/min, fz = 0.7 mm/t
Austenitic Stainless steel
SUS304, SUS316, etc.
X5CrNi18-9, X5CrNiMo17-12-2, etc.
– 200HB
First choice
AH3225
MM
80 – 150
0.5 – 1
2,389
4,777
1,911
5,732
1,529
6,115
1,194
5,971
955
5,732
764
6,115
Vc = 120 m/min, fz = 0.5 mm/t
Martensitic Stainless steel
SUS410, SUS420J1, etc.
X12Cr13, X20Cr13, etc.
– 200HB
First choice
AH3225
MM
50 – 120
0.3 – 1
1,990
3,981
1,592
4,777
1,274
5,096
995
4,976
796
4,777
637
5,096
Vc = 100 m/min, fz = 0.3 mm/t
Grey cast iron
FC250, FC300, etc. 250, 300, etc.
150 – 250HB
First choice
AH8015
MM
100 – 300
0.5 – 1.5
3,981
7,962
3,185
9,554
2,548
10,191
1,990
9,952
1,592
9,554
1,274
10,191
For impact resistance
AH3225
Vc = 200 m/min, fz = 1 mm/t
Ductile cast iron
FCD400, etc. 400-15, 600-3, etc.
150 – 250HB
First choice
AH8015
MM
80 – 200
0.5 – 1.5
2,986
5,971
2,389
7,166
1,911
7,643
1,493
7,464
1,194
7,166
955
7,643
For impact resistance
AH3225
Vc = 150 m/min, fz = 1 mm/t
Titanium alloy
Ti-6AI-4V, etc.
– 40HRC
First choice
AH3225
MM
30 – 60
0.3 – 0.7
796
1,592
637
1,911
510
2,038
398
1,990
318
1,911
255
2,038
Vc = 40 m/min, fz = 0.4 mm/t
Superalloys
Inconel718, etc.
– 40HRC
First choice
AH8015
MM
20 – 50
0.1 – 0.3
597
1,194
478
1,433
382
1,529
299
1,493
239
1,433
191
1,529
Vc = 30 m/min, fz = 0.2 mm/t
Hardened steel
SKD61, etc.
X40CrMoV5-1, etc.
40 – 50HRC
First choice
AH8015
MM
80 – 150
0.1 – 0.5
2,389
4,777
1,911
5,732
1,529
6,115
1,194
5,971
955
5,732
764
6,115
For impact resistance
AH3225
Vc = 120 m/min, fz = 0.3 mm/t
SKD11, etc.
X153CrMoV12, etc.
50 – 60HRC
First choice
AH8015
MM
50 – 70
0.03 – 0.1
1,194
2,389
955
2,866
764
3,057
597
2,986
478
2,866
382
3,057
Vc = 60 m/min, fz = 0.1 mm/t
For more information about this product, visit our online e-catalog or download the product report:
BACK