Machining program compensation for wiper SW/FW insert
The nose radius on a wiper insert has a different configuration from that on standard ISO insert's. Machining program adjustments are, therefore, required to generate a correct offset for the wiper insert to machine the correct workpiece dimension. No compensation is needed, however, for the positive, CCMT-SW wiper insert.
Wiper effectiveness (surface finish quality improvement) by applications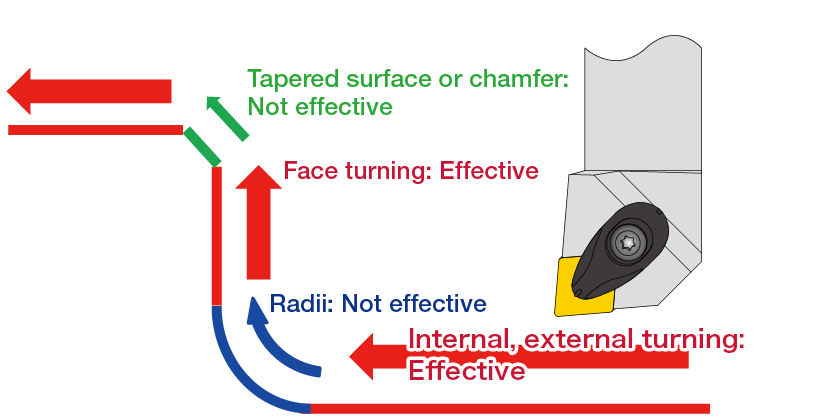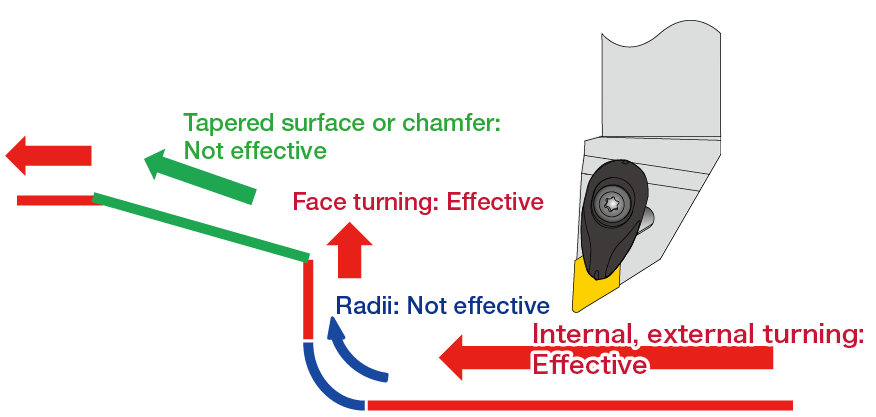 Program compensations by insert shapes and applications
Match your insert shape and application to find the proper compensation method.
Insert shape
CNMG/WNMG-SW/FW
DNMG/TNMG-SW/FW
CCMT-SW
Applications
Type L
Type J, G, F
Type L

Internal, External and Face turning

Proceed to Compensation ①
Proceed to Compensation ④
No compensation needed

Including tapered surface

Proceed to Compensation ①,②
Proceed to Compensation ④,⑤
↑

Including corner radius

Proceed to Compensation ①,③
Proceed to Compensation ④,⑥
↑

Including tapered surface and corner radius

Proceed to Compensation ①,②,③
Proceed to Compensation ④,⑤,⑥
↑