Miniature Indexable Endmills and Drills to meet Industry 4.0 Challenges
Engineering is all about evolving products and solutions which are more effective in their performance, easier to use, and affordable. Machine tool industry is no different. Imagine the machines which were offered in the early 19th century. One lathe for big and small machining parts. One milling machine for all sizes and types of components.
As of recent years, you can buy machines to suit your component size and material. Machining a component which would have taken about a day a few decades ago, can be machined in no time today. This is possible due to evolution of smaller footprint machines with better stability combined with high speeds and feed rates.
Following this trend of small CNC machining, Tungaloy has been working on small indexable tools for milling and drilling, adapting itself to the new generation of CNC machines.
The new miniature tools work effectively with high-speed spindles on a small CNC machine. The advantage of using Tungaloy's fine pitch tools with optimized cutting edges is exceptional productivity.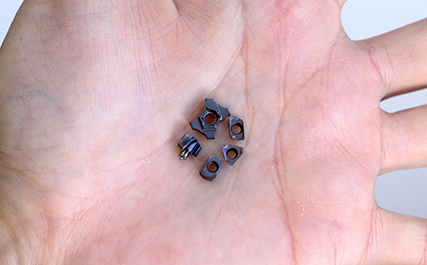 Why shrink the tools:
Smaller CNC machine tools, with smaller taper, high spindle speeds offering high table feeds. This means requirement of lower tool weight and balanced tool assemblies.
Multi-axis Swiss CNC machine manufacturers, with space constraint, need small tools. This space was mostly filled by Solid Carbide tools. Miniature indexable tools offer greater flexibility to users.
Near net shape forgings / castings and sintered parts. Only semi-finish / finish operations to achieve good surface finish and geometric accuracies.
Taking lower depth of cuts and high feed rates will help achieve consistent results in machining.
Designing Effective Miniature Rotating Tools
Miniature art using the fine tip of pencil lead needs a steady hand and brain coordination and, of course, passion.
So is the case with miniature indexable tools. Customers are constantly looking for cutting tools which help them improve their machine utilization. This drives our designers to develop the perfect cutting tool match for every CNC machining small parts.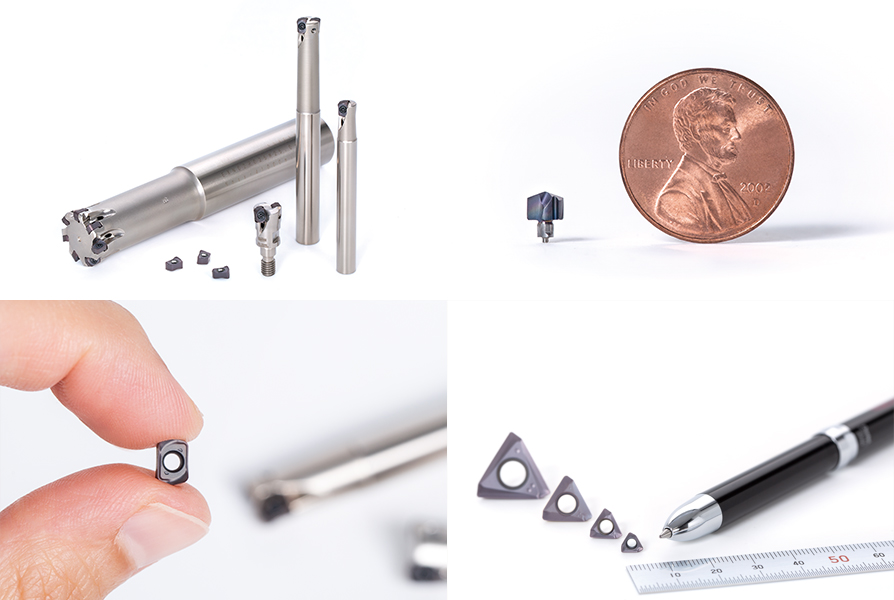 Miniature indexable tools are only effective when they provide improved machine utilization. Difficult for others but not impossible for Tungaloy.
Tungaloy's design team considers every aspect and fine detail of each small indexable tools. Here's what makes these tools champions amongst other miniature indexable tools:
Tools are produced from high-density steel to dampen vibrations yet have sufficient flexibility to stay safe under variable load
Fine pocket design ensures firm insert clamping
Optimized screw size and torque to sufficiently hold the insert in place
Higher steel support below the insert to ensure machining at higher feeds/loads
Close pitch design for higher productivity
Optimal combination of insert grades + geometries
Being small, the insert needs sufficient support. The V-bottom geometry of the insert helps increase its mounting surface and also helps in firmly locking the insert in the V groove. Multi-direction milling with the tool will keep the insert in place with minimum effort from the insert screw.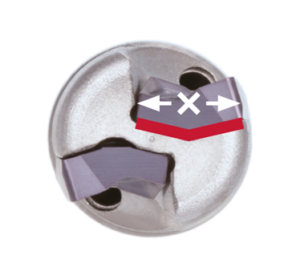 Keeping the elasticity intact even after undergoing high temperature variation and number of indexing is a key to success of miniature tools. Finest tool material is the number one ingredient of a miniature indexable tool.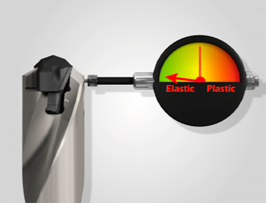 With moderate to close pitch design of cutters, Tungaloy has tried to put more inserts on the milling cutter body. This helps not only in achieving higher metal removal rates on small CNC machining, but also helps when machining thin-walled applications.
Tool dia. (mm)
No. of inserts
Productivity improvement
compared to competitor
TungForce-Rec
Competitor
Coarse pitch
Close pitch
ø16
2

3

2

1.5

times
ø20
3

4

3

1.33

times
ø25
4

6

4

1.5

times
ø32
6

8

6

1.5

times
ø40
6

8

6

1.5

times
ø50
8

12

8

1.5

times
ø63
8

14

8

1.75

times
Comparison of cutters' insert-per-diameter density
Tungaloy's TungForceRec indexable end mills start from dia. 6.0mm onwards. Single sided 2 cutting edged inserts are available from 4mm, 6mm and 12mm and are offered in a wide variety of corner radii, depending on the insert size. AVMT04 and AVMT12 are M-class inserts for economy and AVGT06 and AVGT12 are G-class inserts for precision machining.
Strong cutter body design
V shape insert design enables the cutter to have a thick core and insert backing.
Ensures high productivity and stability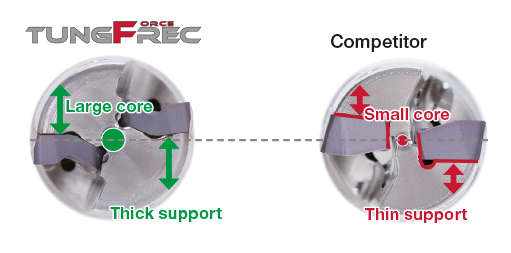 Tung-Tri04 is another new addition to Tungaloy's miniature indexable end mills.  Featuring 3 cutting edges on inserts in 04 size with minimum cutter dia. of 8mm, the radius wiper on the inserts helps in improved burnishing effect for finish machining.
3 cutting-edged insert provides economical solution with low cutting forces
Helical cutting edge provides low cutting forces in all applications


Large wiper radius provides improved surface quality

AddDoFeed is the newest miniature high-feed milling cutter. Never in history has any company offered an 8mm high-feed end mill using a 4 cornered insert.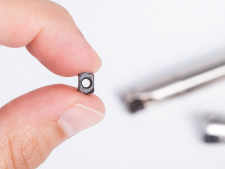 Cutter body design for maximum productivity
Extremely stiff body design with a large core, and close pitch cutter design for increased productivity

Reliable and economical inserts
Economical double-sided inserts with four cutting edges
Thick insert design for increased reliability

And finally, a miniature modular drill- AddMeisterDrill, starting from Dia. 4.0 mm, is now available from Tungaloy. Available in 3 and 5 L/D drill bodies with cylindrical shank, this makes it possible to start the transition from solid carbide drill to modular drills. Drill heads are available in 2 geometries: DMP for general drilling and DMC with self-centering capability for drilling precision holes.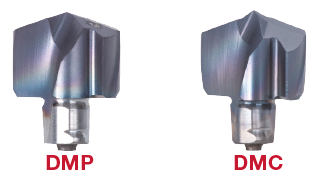 World´s smallest exchangeable drill head series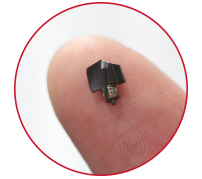 Quick and easy clamping with unique key supplied with each head

Comparison against other types of hole making tools
AddMeisterDrill
DrillMeister
Screw lock type
Exchangeable drill
Solid carbide drill
Indexable insert type
drill
Number of effective edge

2

2
2
1
Productivity

Excellent

High
High
Low
Hole diameter accuracy

IT8 – 10

IT8 – 10
IT8 – 10
IT11 – 12
Diameter variation

0.1mm increment

0.1mm increment
0.1mm increment
0.5mm increment
Over 8xD drilling
Possible
(with DMC head)
Pre-hole operation required
Pre-hole operation required
Special tool body required
Chip control

Excellent

Good chip control
Good chip control
Optimized by cutting condition and breaker
Hole straightness
Excellent
(with DMC head)
Good
Excellent
Not good
Accessory of tool set up

Key only

Wrench and screw
–
Wrench and screw
Tool set up

15 sec.

1 min.
10 min.
5 min.
Tool position after set up

Constant

Constant
Always different
Constant
Tool life

Long and stable

Stable
After reconditioning tool life decreased by around 30%
Stable
Tool cost

Medium

Medium
High
Low
Reconditioning

None

None
Necessary
None
Inventory Management

Easy

Easy
Complex
Easy
Special diameter

Only need special drill head

Only need special drill head
Special drill body required
Special tool body required
Lathe machine

Stable

Stable
Misalignment will cause breakage
Stable
Small machining tools need very reliable grades highly resistant to chipping with a sharp cutting edge. Hence the inserts are mostly PVD coated with 1.5 –3.5 microns coating thickness. The inserts also undergo PremiumTec surface treatment, which helps in reducing friction, facilitating easy chip evacuation and preventing build-up edge.
AH3225 and AH9130 are the latest developed grades for miniature milling inserts and modular drills respectively. Both grades feature high chipping resistance substrate with multi-nano layer PVD coating of up to 3.5 microns.

Nano multi-layer coating technology with three major properties for optimal cutting edge integrity
Increased resistance to wear, fracture, oxidation, built-up edge, and delamination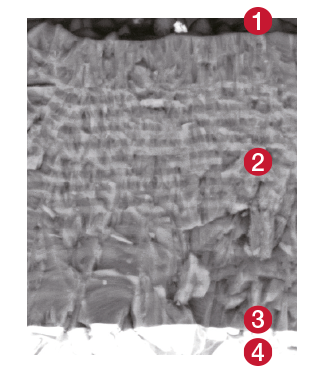 1 – Resistance to built-up edge
The coating surface prevents built-up edge
2 – Resistance to wear, oxidation, and fracture
Multi-layered coating is designed to resist wear and oxidation, while preventing micro-cracks from propagating in the coating layer for improved resistance to edge chipping
3 – Strong coating / substrate adhesion
Coating is optimized for strong adhesion property with substrate to maintain strong cutting edge integrity
4 – Carbide substrate
High resistance to fracture
Tips on using Miniature Indexable Tools:
Use precision holders which offer good tool clamping and the least runout.
Keep the tools clean, especially the pocket and the shank.
Ensure the inserts are properly clamped in the tool pocket.
Adjust the optimum tool life during initial use and index the inserts before end of set tool life.
Never underutilize the tool. Use it always at the rated parameters to get the best performance.
Advantages with Tungaloy´s Miniature Indexable tools for Small CNC machining
Tough steel bodies
Long tool life and improved indexing accuracies
Well-designed insert pocket
Good runouts lead to excellent surface quality and extended tool life.

Firmly seated inserts help in fracture resistance and improved component quality.

Fine pitch
Highest table feeds compared to any other tools in this range.
Thru coolant tools
High-pressure coolant delivered precisely at the cutting edge provides reliability and extended tool life.
Engineered cutting edge and grade of inserts
Chipping resistant, low cutting forces, and reduced deflection leads to smooth machining action.
Mixed material batch
Machining Aluminium to Inconel on the same machine, Miniature tools offer the highest flexibility.
All the above benefits from Tungaloy deliver value to customers in the industry 4.0 revolution and help customers reduce downtime and maintain high machine utilization.