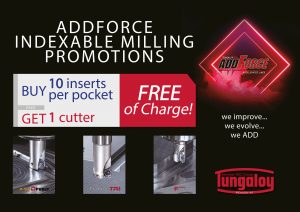 Tungaloy UK AddForce Indexable Milling Promotions
Tungaloy UK has now introduced its latest advanced product offering with a new product campaign that has been presented by Tungaloy Corporation Chairman and President of the IMC Group, Mr Jacob Harpaz. The company's ADDFORCE global launch introduces the latest innovations in metal cutting tools from Tungaloy.
To celebrate the launch of this exciting and expansive new range, Tungaloy UK will be running a series of promotions to March 2022. From the tranche of new milling products, Tungaloy UK will demonstrate attractive promotions on the new AddDoFeed high feed milling series, the Tung-Tri and TungForceRec shoulder milling line.
View and download Promotion Flier
AddDoFeed – SMALL DIAMETER HIGH FEED MILLING SOLUTION
Highly successful DoFeed series now available in smaller 8 mm diameter milling cutter. AddDoFeed double sided negative insert features a large rake angle with optimal inclination that allows good chip control and smooth chip evacuation. Read more
TungTri – SHOULDER MILL SERIES UNVEILS CUTTERS IN SMALLER DIAMETERS THAN EVER BEFORE
Tung-Tri 04 boasts an innovative insert geometry, featuring a super high rake for a small diameter cutter, which significantly reduces cutting forces while eliminating chatter and edge chipping. Read more
TungForceRec-12 – UNIQUE V-SHAPED BOTTOM FOR MAXIMUM PRODUCTIVITY
The unique V shaped bottom inserts enables the cutter to have higher tool rigidity and carry a greater number of inserts compared with conventional indexable shoulder milling cutters. Read more
If you have any questions about any of the above products, please get in touch.
Tungaloy UK, Gallan Park, Watling Street, Cannock, WS11 0XG
Phone: 0121 4000 231       Email: [email protected]         Contact Form